August 16, 2005
Out with the Old, In with the New
We spent the morning at home waiting for the upholsterors to come pick up our sofa. They took it away a few minutes ago and it will be gone for three to four weeks. When it returns it will feel like a brand new sofa, with new fabric and retied springs. Many furniture refinishing jobs are ones which my husband and I can and will undertake, but finer upholstery than putting a new cover on a dining room chair is something I prefer to outsource.
I've been thinking, talking and occasionally getting fabric samples to have the sofa recovered one and off for the past five years. I wouldn't want to rush into anything, of course, but the time had finally come.
My mother bought this sofa in Arizona at a rummage sale in the mid-1980s. It was in our family room. Then it moved to Ohio with my family and spent time in the family room, the enclosed front porch, the dining room and finally was living in the master bedroom when I took it to Tuscaloosa with me to furnish my apartment during library school. It then moved around Nashville with us and went to spend a year in Kentucky while we moved to Alaska without us, after we deemed it too big and too heavy to make a move that paid for by the government only up to a certain amount of weight. After it's one year in exile, it returned to us in our new house. We had to take the living room door off the hinges and do some fancy manuevering down the hall to get it in, but it's been sitting there, getting dirtier, and more hole filled as it ages. The cording has long since started poking out too, of course.
Still, as I said, it is a solid, heavy, down-filled sofa and despite the sad condition of its upholstery, it is pretty good shape. We couldn't replace it with anything comparable for the price of recovering it.
We went through about a million swatches of fabric and trips to multiple fabric stores and finally decided on a gold, floral brocade. It's going to be more formal then the old fabric, but also darker and stronger to hold up to dirty feet and children who jump on sofas when they think no one is looking. I loved the old fabric, but I think eventually, I'll really like the new one too.
Farewell to this: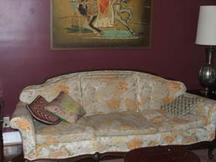 And hello, in a month, to something like this: