November 30, 2004
Christmas Cards
I sort of want to send out Christmas cards, especially since after painting the picture on the left part of the screen last year, we all got sick for the whole month of December and I never got cards made let alone sent out. On the other hand, cards seem like a lot of effort. I'm not sure I have it in me.
Ornaments
I mentioned below that most of our ornaments are relatively unbreakable. Other than that some also belong to certain collections of ornaments. By which I don't mean Hallmark collections. We have a moose and caribou collection -- with some other woodland creatures thrown in for good measure. I seem to have picked up a lot of snowflakes and stars along the way and my husband has several airplanes.
Some of the ornaments are just pretty, but have no special significance other than the memories of a trip to Target. Others I love hanging up because of some association. There is the moose we got at Glacier National Park and the Buffalo from Yellowstone. The bell I won at a church Christmas party in Fairbanks. The two leather moose from Fairbanks, which we don't quite remember how we got two of. Some old fashioned Santas that my husband's grandmother gave us right after we got married are hanging up and well loved by the kids. Two special ornaments are my son's, given to him by a sweet old lady who died last January, but whom my son always took the time to say hello to and brighten her day. And then there is the B-2 bomber ornament I found for my husband knowing he'd enjoy it, that a friend later teased us about saying, "Nothing says peace and goodwill towards men like heavy artillery and bombs."
What's on your tree and what do you think about as you hang things up?
Tomorrow
Tomorrow will be a big day around here. The baby will be one month old and her big brother will turn five. I'm entirely certain that I'm not old enough to have a five year old and that he was born a few weeks ago. Where does the time go?
Thanksgiving and All That Stuff
I hope everyone had a lovely Thanksgiving. We did. All the food was delicious and with my obsessive planning and advance preparation, getting food ready and on the table wasn't crazy. We did forget to make gravy, but since the turkey was moist and the mashed potatoes had plenty of flavor thanks to the chives, garlic and cream cheese, gravy wasn't really necessary. My main complaint was that we wound up with very few leftovers. At least, very little leftover turkey and my in-laws when snacking only ate the turkey, none of the leftover side dishes. We wound up making one meal out of dressing, spinach gratin and sweet potato casserole a few days later.
The Boy insisted that the tree go up as soon as the last crumb of pumpkin pie was eaten. We have a new tree this year. My mother is the queen of bargain finding and happened across a pre-lit 9-foot tree last Christmas Eve for $20 at Lowes. My parents don't celebrate Christmas, so she got it for us. We have 11 1/2 foot ceilings in the main rooms of the house, so it isn't too tall and by luck it also happens to be a very slim tree which works out well since we have more headroom than floor space. We didn't get it decorated until Friday, much to the Boy's dismay and we haven't gotten around to putting any lights outside. We usually hang some garland with lights on the porch rails, but haven't decided if we have the energy this year.
The year The Boy turned one, I decided that almost all of our ornaments would forever after be metal or wood and generally unbreakable. As I watch my children re-arrange them for the millionth time and scatter more on the floor than there are on the tree, I'm glad. We do have a few special ones up high that they can't reach -- at the top of this tree they are higher than I can reach.

November 29, 2004
Mmm...
One of my favorite teas is out for its seasonal run. I just ordered myself some. Yummy.
November 24, 2004
Big Brother Loves the Little Sister Who Doesn't Steal His Toys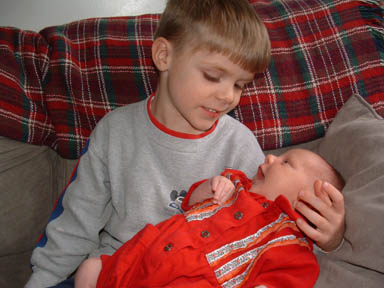 Choices
Nathan has an interesting piece on the word "choice" and how differently he believes liberals and conservatives understand it.
November 23, 2004
Sisters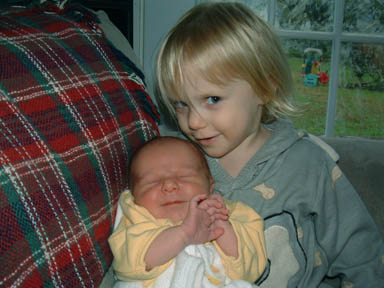 Something to Be Thankful For
I'm wearing my normal pants and am able to button them up and sit down in them today. :)
Thanksgiving and Proving How Insane I Am
Terry always thinks I prove my insanity by photoshopping his picture, for instance like this. However, the real proof of my insanity lies in the fact that three and a half weeks after having a baby, my husband and I are hosting Thanksgiving dinner for around 10 people.
I was thinking I was crazy yesterday while I was running out to the store to buy some gluten-free flour, because my husband's aunt has an allergy. I was thinking this as I was looking up diabetic pie recipes for my husband's grandmother as well. I am willing to make a few special things for those with health related diets. I am not however changing the menu entirely for those on Atkins or similar diets (and none who are attending our feast are on that kind of diet for health reasons).
I believe hosting dinner will be doable though. We're keeping the menu relatively simple and there will be almost nothing that can't be made a day or two or three ahead. We'll be having turkey, cornbread dressing, mashed potatoes, spinach gratin, cranberry sauce, pumpkin pie, diabetic pecan pie and apple-cranberry cobbler. I've made the cranberry sauce and assembled the cobbler. I think I may bake the cornbread and biscuits this afternoon, since they are supposed to be a bit stale for the dressing anyway. The gratin and the pie will either get made today or tomorrow, today I hope since tomorrow night we have Bible study and the evening gets kind of hectic.
On Thursday we'll just have to make mashed potatoes and turkey and heat the rest up. Sounds simple enough. We actually enjoy hosting these big meals.
November 19, 2004
You All Will Think I Can't Cook Without Pumpkins
However, since Thanksgiving is next week, I thought I would share the best pumpkin pie recipe. It is a recipe we worked out, taking bits and pieces from a several different sources. I believe the recipe is mostly from Cooking Light and a cookbook called Cooking from Quilt Country : Hearty Recipes from Amish and Mennonite Kitchens.
Growing up I never liked pumpkin pie all that much, however, the pumpkin pies we had growing up were always from the bakery section of the grocery store or else from the freezer aisle. When I left home and made my first homemade pumpkin pie, I discovered they could be much better. However, they weren't all that exciting. This recipe, though, is delicious. One I would never let go to waste at the back of the refrigerator. I'd much rather let it go to waist. :)
Maple-Bourbon Pumpkin Pie with Praline Crust
serves 8
For Praline Crust:
2 tablespoons butter, softened
⅓ cup brown sugar
⅓ cup chopped pecans
1 unbaked pie shell (preferably homemade, but store bought does fine)
For pie filling:
Âľ cup evaporated milk (fat-free or regular)
½ cup maple syrup
⅓ cup packed dark brown sugar
3 tablespoons bourbon (1 teaspoon imitation rum extract works ok for those strict teetotalers)
2 teaspoons pumpkin pie spice
1 teaspoon vanilla extract
ÂĽ teaspoon salt
2 large eggs
1 large egg white
1 (15 ounce) can unsweetened pumpkin
ÂĽ cup (2 ounces) cream cheese (⅓-less-fat or regular), softened
1 tablespoon maple syrup
Preheat oven to 450°. In a small bowl, cream together the butter and brown sugar. Blend in pecans. Press firmly into the bottom of the unbaked pie shell. Bake for 10 minutes, watching carefully so crusts do not puff up or slip down. Prick puffs with the fork if you see this happening, and pat the slipping crusts back up into place with the back of a fork. Let cool before filling.
Lower oven temperature to 350°.
Combine evaporated milk and the next 9 ingredients (milk through pumpkin) in a large bowl. Stir well with a whisk; set aside. Combine cheese and 1 tablespoon syrup in a small bowl. Stir with a whisk until smooth. Pour pumpkin mixture into crust. Drop cream cheese mixture by small spoonfuls onto filling; swirl with a knife.
Bake at 350° for 55 minutes or until a knife inserted in the center comes out clean; cool completely on a wire rack. Best if aged overnight.
November 18, 2004
A Birthday-licious Thursday Three
In honor of Jim Smith's upcoming birthday, we have birthday questions this week.
1. Is your birthday in a good time of year or does it suck?
My birthday is at a decent time of year -- mid-April. The daffodils are blooming (sorry LittleA, but I love them) and the world is getting bright and pretty. The problem with my birthday though, especially a problem for my parents the year I was born, is that it falls the day after taxes are due. No doubt they had to file for an extention that year -- and every year thereafter they felt extra impoverished by the time my birthday arrived.
2. How did you spend your 21st birthday?
I was in grad school in Delaware. A lady in one of my seminars brought me a huge bunch of daffodils from her garden. I went out with my roommate and a friend from the apartment down the hall to the famous Deer Park Tavern, where Edgar Allen Poe once visited. Then I came home and talked to my boyfriend Justin on the phone. I think that's about it.
3. Do you know anyone with your birthday?
Lots of people actually. In my senior year of college there were three of us all in the same sorority and all living on the same floor of the same dorm. There was a fellow at church in Alaska and one of our preachers down here in Nashville who also share the date. Plus there are all of these people -- a few of whom are actually noteworthy.
November 17, 2004
Is He the Child of a Lawyer and an English Major?
My son, who asked for a reprieve the other day, was just overheard by me having the following conversation with his sister:
"You have these options. You can get this book or this one or this one. Not that one! That's not one of your options!"
Old Friends
I don't think I've ever managed to go searching for any old friends and ever found them on the internet. However, having this blog has led one or two people to find me. My junior high and high school friend Ellen stumbled in here a few months ago. My brother's former girlfriend and a friend to me Blair dropped by once a long while ago and then started coming back more often after she got put on bedrest. Other friends drop in now and then too -- one who found her way here back in the very beginning when we actually had an Instalaunch and another who got here after a link to photos my kids reading NR was posted on The Corner. We got a letter from a college pal and his wife this weekend, who happened to stop by and see the birth announcement for our daughter -- congratulating us and letting us know they are expecting their second child.
These are reasons I'm rather glad not to be anonymous. Sometimes I wonder if that would be wiser. There are weirdos out there and I've had one or two run-ins with nasty commenters. Mostly though, I really like having a my name on things, so that when someone from my past stumbles in here, I can catch up with them again. It is wonderful to make all the new friends I've made through blogging, but it sure is nice to catch up with old friends too.
Toddlerese
Before I had children, I swore I would never repeat their baby words back to them. I could not believe that my in-laws still would on occasion use the baby word their daughter had had for fork almost twenty years later. It drove me nuts when my sister-in-law and her husband would refer to things by the baby words my niece and nephew used. It is a good thing that I only complained to my husband about these things though, because I've had fewer people to apologize to and fewer people to make fun of me for my change of heart.
I love the creative pronunciations and completely different words my children have for things when they first learn to talk. As they grow bigger and speak more clearly, I miss the toddler-speak.
My son is very well spoken. He no longer calls bananas "gomanas," backpack isn't rendered as "hatback" any more and he asks for balloons now and not "gaboons." One day after he learned to read, he looked at a tag on some gloves and realized that they weren't called "glubs." He can read and say just about anything. The kid asked for "a reprieve" from the time-out chair the other day. The last vestiges of baby words that he has are calling lasagna "plasagna" and pot pie "hot pie". I'm sure those will disappear soon.
My two year old talks all the time now. A lot of what she says like, "I won't!" isn't all that cute, and a lot of her baby words are disappearing too. She still mysteriously refers to music and singing as "why-o" but she's also started asking to "ding dongs in the dongbook." As soon as her pronunciation gets better I bet we'll never hear about "why-o" again. She's already saying "Be-a-rix" and not just "Bee-rix" for her sister's name. In the past, her favorite animal was the "hippomanus," but yesterday she said it "hippodominus" which sounds like the Latin for the über horse, but really she's starting to notice all the syllables and pay more attention to how one really says hippopotamus.
As with many other things, I want them to grow up. I wouldn't want to see one of my children go off to a job interview talking or acting like a toddler. However, I miss these words -- symbols of babyhood -- as they get bigger and forget them. I wish I had recorded all the funny ones. I'm holding on to all the words I can remember now -- and chances are in twenty years I may pop out with one of these words that no one else remembers. I know it will make me smile.
November 15, 2004
Head Above Water...
Sunday was indeed a calmer day. The whole family made it to church for both morning and evening worship -- although we did miss about 15 minutes of Bible class. We'll have to work on the morning routine a bit more.
We had a nice calm afternoon between services. No real napping was done, but we did have a nice period where the kids wanted to listen to Tom Petty, The Boy read aloud from a book on bird watching, The Girl brought over one of our poetry collections and demanded "a story," and The Baby just snoozed. Sure it probably sounds bizarre to the rest of you, but it was pleasant.
The Baby had one episode of throwing up yesterday, but seems to be turning a corner and doing a lot better. She hasn't thrown up at all today. We had her two week checkup this morning and she's an ounce over her birth weight, so something is staying down.
November 13, 2004
Can I Get a Do-Over on the Weekend?
We still have Sunday to go, but Friday was a bust and Saturday has been exhausting. Friday was grey and cool. In the morning I took the older two kids out to run a few errands, while Justin, who has a cold stayed home to nap with the baby -- only she didn't sleep. So he decided to go into work for a bit after I got back, but first he tried to turn on the heat. Didn't work at the thermostat, so he tried going through the whole procedure of restarting it. He did that about 5 times, before it really sunk in that the thing was not going to start.
We called in the guys we buy a yearly service contract on the furnace from and they came out within a few hours. The ignition switch was broken, so the guy went to get the part and then started doing the regular service, inspection and cleaning before installing it -- which is when he found holes in the exchange. Now, it is a 12 year old, bottom-of-the-line furnace, so we knew it was going out soon, but it would have been nice to get another year or two from it. NOT!
The bad news is that a furnace is downright pricey. The good news is that they were offering no interest financing and they could install it today. So we have heat.
Right after the salesman left taking our meagre fortune and plenty of money we don't yet posess with him, the Baby threw up. Now she spits up on occassion, but recently she's been making a hacking noise followed by yellow puke. This time the puke wasn't just yellow, it was clear -- like broth. That scared me enough to call the pediatrician, who must have worried too, because she sent us to the ER. We quickly found accomodations for the big kids and a neighbor to watch the dog and headed off. Lots of hours, an x-ray and a consultation with the gastro-guys and we got to go home with everyone's best guess being that she either has bad reflux, an irritation somewhere or a stomach virus. Anyway, nothing as serious as they'd feared.
Bedtime at 1 a.m. doesn't make for lively parents the next morning, but we were up bright and early to let the furnace guys in. When they finished in a super speed 2 hours, we headed off to get the kids and directly on to a festival at The Boy's school. We were there from noon to four or so and the kids had fun doing crafts and games and all the neat things there were, but that meant no nap for anyone.
When we got home a kind neighbor brought us food. I always try to make a meal for people when they have a baby and people have done so for us in the past, but it has been even more wonderful this time than ever before and I must remember to cook more for others when they are sick or out-of-the-loop. It sure does mean a lot and help a lot.
I'm praying for a calm and peaceful day tomorrow, with a nice long nap in the middle.
November 11, 2004
Daddy Has Two Girls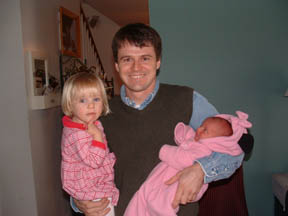 Thank You!
To all of our service men and women past and present, a great big thanks -- stay safe.
Where Were You at 4:45?
Most sane people answer this question with, "Sound asleep in bed." And I was too. The baby and I were cuddled together and my husband was snoozing away on the other side of the bed, when screams of "Daddy!" followed by much sobbing broke through my pleasant dreams.
The two year old, not the baby, has been the greatest source of midnight wakings lately, whether because she's having bad dreams, getting cold, or just wanting to stick it to her tired parents, we aren't sure. Whatever the reason, she was up again and this time there were a few extra twists. My husband ran up the stairs and I almost fell asleep again, when I heard him running water in the bathroom. That meant either someone had thrown up or someone had wet the bed and needed to be cleaned up. Neither is pleasant at 4:45, but I was just routing for no vomit when I carried clean sheets upstairs under one arm and the now wide awake baby with the other.
Hooray! It's only urine. My son, who has finally graduated from Pull-ups, still has an accident every once in a while and this was one of those nights. Of course, this was also the night we realized that thanks to a few puddle pads not surviving the dryer, we had no spares. We finally threw on two crib sized ones, even though we just knew that since he'd wet the bed once, we'd be fine to make it up without a pad just this once.
Or not. When he got up in the morning, his bed was soaked again. So loads and loads of laundry await. It wasn't like I didn't already have a totally full hamper filled with things covered in baby spit-up, but then I think they are really all conspiring against me. You'd better believe I'm already teaching The Boy how to do laundry on his own.
November 10, 2004
Out with the Old, In with the even Older
I went through my maternity clothes yesterday and packed up most of mine and returning the borrowed things. It is some what exciting to pull out all my old favorite t-shirts and jeans, a few of which I can already wear and most of which will fit fairly soon. I even wore my regular overalls yesterday, until a tidal wave of baby spit-up washed over the front of them.
Packing the clothes up is also a sad thing though. The vain part of me will miss them, because my maternity clothes are always more fashionable and stylish than the things I generally wear. Really though, I generally hate admitting that my pregnancy is really over. As much as I wanted it to be over and as much as I adore watching the teeny little thing that used to be inside, I miss the comforting feeling of little wriggles and kicks. I miss the quiet and the sleep too, of course. Plus, this was my third and possibly last baby.
I might just be packing these clothes up until some later date when I just give them all away never to be worn by me again. I'm certainly not ready to commit to a fourth child and I spent a lot of my pregancy thinking there was no way I could ever do this again, but I'll miss all those clothes if I never wear them again. I'll miss the wriggles and kicks. I'll look at the kidlets I have and wonder, "What if..."
Therefore, right now the clothes will lie dormant under my bed. In a few years I will pull them out and ship them off to Goodwill or wear them one more time. If the latter, I'll know it will be my last chance to wear them and in the end they'll be headed for Goodwill anyway. But for now, good-bye to them. I need to go figure out which regular pants will fit.
November 09, 2004
The Dreaded Day
Justin has been home on paternity leave, but tomorrow he's headed back to work for at least part of the day. And it isn't one of The Boy's school days, so I'll have all three kids at home. Yikes. I'm definitely a bit nervous and won't be all the surprised if I find myself bound and gagged with the kids doing war whoops around me.
November 06, 2004
Ho-Hum, Nothing Much Going On Around Here...
Actually there really isn't much happening. There is a lot of baby watching on my part and she's doing the three things babies do best -- eating, sleeping and excreting. Otherwise, the older two are being pretty good and generally tolerating the new addition well.
The Boy takes it all in stride and has gotten out his sling and a baby doll -- his dad probably fears that I'm turning him into Alan Alda, but I'm not too worried. The Boy was a little worried that he couldn't breastfeed his baby because he didn't "have a wife," but he decided he could use a sportsbottle instead -- being the militant breastfeeder, I don't actually have any bottles around.
The Bigger Girl is being sweet as well and loves to "hold" her sister and sniff her hair and then declare, "Mmmm. 'Mell good." Being surplanted as the baby in the family isn't entirely easy though and she is more prone to nasty tantrums than before. She hasn't taken anything out on the tiny one though. It is amazing to me how my teeny-tiny two year old could have gotten so huge overnight. I saw it last time with The Boy, but it seems even more striking this time.
It sure was nice to have a baby daughter and see the candidate I wanted win all in just a two day span. It has been a good week.
November 03, 2004
We're Home
Since my press agent has already spread the news and even gotten all the details including the spelling of Beatrix's name correct, I guess that all I have left to do is post a photo and tell you that we're all doing well and even sleeping once in a while.