September 29, 2005
I Doubt This Will Come As Much Of A Surprise
September 28, 2005
Three Years Old
Three years ago, I was at the hospital laboring away. I didn't know that by the afternoon I would have a little baby girl. I had a fairly easy labor, but didn't know that was almost the last thing that she would make easy for me. A tiny little thing compared to the over-nine pound giant her brother was, she was still over eight pounds and feisty from the moment she emerged.
The Middle Girl has always been a bundle of energy. She's quick tempered and sneaky, but she's also quick to flash a smile and positively radiant. Although I sometimes think that if she'd been born first, no other children would have followed, she's also the child that made my brother-in-law want to have children some day. She's spunky and fun, even if we do hear at least one scream of rage from her every morning and hear her say things like, "I had to hit my brother because he smiled at me and I didn't like it."
Although my son is the cuddler and she has never been, I really understand The Middle Girl. I'm the middle girl too and not only that but we share the same looks, the same tastes and I hear that I was both as chatty and as high maintenance as she is when I was small. She's as close as I'm going to get to a clone. Although I'm not exactly sure I ever wanted a clone -- especially one that mimics my bad points at least as well as my good ones -- I can already tell that having a daughter is different from having a son. She likes to go with me places, she likes to pretend girly things and she loves it when I paint her toenails. And for some reason, getting to do those things is a real joy for me -- more, I must admit -- than playing army men or Legos (although I enjoy watching my son do those).
I never know what a year will bring, but three was a really wonderful year of growth and change for my son. He went from baby to kid when he was three. I look forward to seeing The Middle Girl making that change, despite all the challenges and struggles (and with her I mean a lot of challenges and struggles). She's still my tiny girl, only this morning outgrowing her size 18 month jeans and moving up to a size 2T, but she's twice that size in personality and vitality.
I can't believe it has been three years already.

September 26, 2005
Money May Not Buy Love, But It Can Buy Legos
My son has developed a great interest in money recently, inspired partly by The Great Brain books and partly by the fact that money can buy Legos and, well, Legos make the world go 'round.
At school each child does a different classroom job for approximately a month, which is long enough for them to get the hang of things. The first month, our son was a sweeper. Now he's cooking. Next he might be wiping tables, setting up for snacks, or doing one of a number of other jobs. At home, we've been making him help out cleaning up toys and such for a while, but never had a formal list of tasks. With his work practice at school and his desire to earn money, it seemed like an opportune time to make up a chore list. Since the Great Brain books are set in the late 19th century, The Boy is perfectly satisfied with a nickel per task.
Of course, his sister wants in on this deal too. Last night we worked out the following lists. The Boy will wipe the table after each meal, he will sweep, pick up toys, and make his bed. The Middle Girl will make her bed, clear the table after meals, and help pick up toys. We'll mark off things as they get completed and then pay the kids at the end of the week. Once we see how these jobs go, I'm hoping for help unloading the dishwasher and doing laundry. This could be the beginning of an interesting experiment.
It's also a time for certain lessons -- such as -- one does not get paid for everything one does around the house. The Boy suggested this morning that perhaps getting dressed should be paid. I suggested otherwise. He was fine with that. I wonder what else he'll be hoping to do for payment.
Dates
My husband and I are so cute (cue vomit now). We don't just celebrate our wedding anniversary. We also celebrate our first date. Really. I don't know why we still do, but we do and it is a good excuse to go out on a date, so why not? The funny thing is that now, eleven years later, we can't remember what actually happened on that date. In fact, we can't remember whether we're celebrating our first date -- to a college football game -- or the night we held hands while watching Henry V and grossed out all my friends -- or the night we walked out to Green's View and we smooched for the first time.
Despite not knowing exactly what we're celebrating, we celebrate anyway.
On Friday night, we went to Cafe Margot -- or Margot Cafe -- and ate, talked and enjoyed a chance to talk without stopping arguments, discussing Legos or feeding Cheerios to the little one. The restaurant is a very good one and definitely one I'd like to go to again. The meals are very good -- I had salmon and Justin had pork tenderloin and the desserts are delicious and all made in house. That's my kind of restaurant.
Happy eleven years since we started dating, or something, my love. Here's to many more.
And if you want to see what we used to look like -- a few months after we started dating -- look in the extended entry.
Read More "Dates" »
September 23, 2005
Headaches
For the last several days, I've been opening the "new entry" page to type something, but then after staring at the computer screen for a few minutes trying to sift through all the thoughts floating around in my head, I have been giving up and closing the window. I think I'm just tired and busy.
In the last three days, I've been everywhere but home. I've taken The Middle Girl to the pediatrician, gotten the annual emissions test on the car, gone to Home Depot for soaker hoses for the one flower bed we haven't laid them it, taken the girls to story time, gone to Target to shop for a baby shower present, gone to the fabric store to look for something to cover our living room chairs, gone to the park, gone to a toy store to look for a present for The Middle Girl's upcoming birthday, renewed our license plates, and shuttled The Boy to and from school.
I've also cleaned floors and a bathroom and done mountains of laundry. And then I've been staying up late painting, which I will blog more about at some later date.
I have much of interest to me going on and yet I can't seem to focus. I'm looking forward to the weekend and a little break. I'm also looking forward to tonight, when Justin and I get to go on an actual date without kids thanks to a generous babysitting offer from some church friends.
And headaches? Besides the children bickering over plastic animals and whether or not the light should be on, I've discovered that I am definitely a bit of a caffeine addict. I forgot my morning tea in the rush to get The Boy to school and I am feeling the effects of that decision. Excuse me while I pop some ibuprofen and drink something with lots of caffeine.
September 19, 2005
Teacher In Da House
At the beginning of the school year at my son's school, the teachers visit their students at home. It's probably to make sure we are all in compliance with the no TV, no plastic toys and all organic food rules. Rats, I forgot to hide the Cheetos and put out some tie-dye!
Actually, I think the purpose of the visit is so that the teacher and family can get to know each other better. We had The Boy's home visit on Saturday. All was well, and the teacher ignored the TV, plastic toys and Cheetos. We had a nice chat and heard about how things are going from the teacher's perspective.
She asked us what we hoped for in The Boy's schooling -- what we were looking for. I hadn't thought much about it, but off the cuff I babbled something about wanting him to love learning, stay creative and be happy.
And the teacher told me that "studies show parents can't make their children be happy." I almost said, "Duh!" but didn't think that would set the right tone. But really, they needed to do a study to figure that out? Show of hands, did you think you could actually make your child happy? Sure the bribes will shut them up and sometimes win you a hug, but we all know that's not happiness.
Granted the teacher doesn't know us well and maybe there are some parents out there who think there is a mystical formula that will create happiness, but when I said happiness I really meant contentment. I want to instill in my children the ability to find contentment and peace no matter what good or ill might befall them.
Which is why we take them to church, teach them about God and also why we hope they will remain creative and interested in learning. To be happy and content, I think one must first have faith and second be able to amuse oneself.
I can't make anybody happy and I knew that without hearing about studies done on the subject. I do hope that we can give our children the foundations on which to make their own happiness, but the rest is really up to them -- not that they'll object to a few extra cuddles and trips to the ice cream parlor along the way.
A View Without A Room
Several people asked if there was a room behind the new window. Currently, that is our attic. It has subflooring, but is not insulated or drywalled. We talk about turning it into a room eventually, but even assuming we build storage closets/shelves/drawers in all the knee walls, we would certainly have to give up a lot of storage space, and that small attic space is almost the only storage this old garage-less and basement-less house has. So it's conversion to liveable space is somewhat in question.
Recipes
Trub has the Carnival of the Recipes up, with some especially good sounding recipes. We still have a lot of raspberries coming off our raspberry brambles so I think I will definitely be making the Apple Raspberry Crisp. I also thought the Frugal Emergency Supplies recipes were both useful and tasty sounding. But why rehash the whole Carnival? Go see which recipes sound best to you.
September 15, 2005
Curb Appeal
As I've mentioned on and off, we've wanted to put a window in our front gable since we moved in over three years ago. As long as we've been here, the gable has looked bare and a photo from when this place was broken down and decrepit shows that it used have a fancy attic vent and gingerbread. While putting that back could have looked nifty, we really wanted a window so that the attic could have the potential to become a real room some day.
This summer we finally had the funds saved up for such a project. After learning that the lancet window I really wanted would cost about $4000, I put aside such foolish notions and figured out what might be within the realm of possibility. We finally settled on three rectangular windows (two small ones flanking a larger center window), which can be seen all over our neighborhood on houses similar to ours.
The side windows are fixed and the center is a double-hung. I really wanted the gothic arches and diamond design for the muntins on the upper part of the center window, but even that would have added to the cost quite a bit. We got another cheaper, but equally authentic if not so Gothic pattern.
All this we decided way back in June. We also met with the contractor and decided on fiber cement shingles and made a few other design choices. It all seemed to be on track.
The window came in towards the end of July and the store started bugging us to get it out of their warehouse. In mid-August our contractor was all set to do the installation when we hit a snag. I am apparently incapable of getting good information out of the lumber yard and what I thought I had learned about fiber cement shingles was not accurate. Their cost was way too high and they would take over another month to get. So we had to rethink what we wanted and decide whether we wanted a different shape of fiber cement shingle that was easier to find and cheaper or did we want to get cedar after all.
We went with cedar. We really wanted something other than half-rounds and with cedar we had far more choices for patterns and designs. We bought a box of arrow shingles and a box of square shingles from Vintage Woodworks, which arrived in just three days. They were a really great company to work with.
Once we got the shingles, we had to paint all 192 of them. We spent three days priming every side of every shingle and then painting everything except the back. We also primed and painted all the trim for the window and additional trimwork. We weren't paying our contractor for his painting expertise, so we did all that work ourselves.
This Monday morning the contractor and his assistant rolled in.
When they arrived the house looked like this: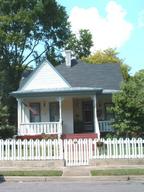 And then this: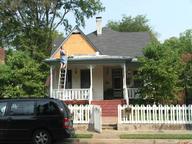 Then the cutting started: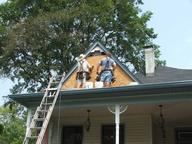 And there was a hole: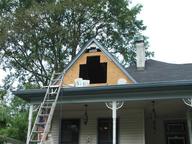 Followed by a window: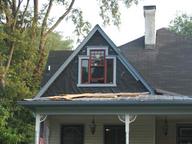 On the second day, they cut and installed a ridge vent, put a frame of trim around the gable and the shingling started: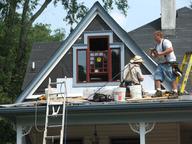 And went on: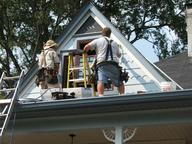 Until suddenly it was done: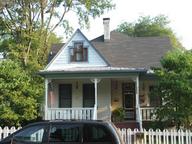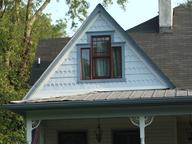 We'll have some puttying and touch-up painting to do, but the worst is over. It rained today and I checked for leaks. Everything is dry. I keep going outside to look at my pretty house. It looks a lot better already and just wait until we get the rest of the vinyl taken off and replaced with something else some day. But that is a project for some other year.
Party Planning
My head is stuffed with cotton, or feels like it anyway. I fear a sinus infection may be in the works, but I am still hoping it might just go away.
Things move on at a rapid pace, whether or not I feel up to dealing with them though. The Middle Girl will be three in less than two weeks and since she has an older brother to learn things from has decided she needs a birthday party. I'm not terribly inclined to throw such a thing, but I suppose birthdays do call for a little spoiling, so we'll be having a butterfly party (per her request) for her and the two boys her age from church, plus I'm going to invite the three teenage sisters from church with whom my daughter is totally in love and an attorney from my husband's firm who told us he expected to be invited to all of our children's birthday parties. I painted this to put on the invitations. I'm not really trying for the übermom award. It only took 20 minutes or so. I spent more time laying out the invitation in Word and longing for Pagemaker.
I am not sure what one does at a butterfly birthday party. Since there are only two kiddie guests, I might make them all butterfly wings, but otherwise I think we'll just stuff them full of cake and let them run around. They are a bit young for most crafts and games, and the most fun parties seem to involve plenty of time when parents aren't scripting things.
Which leaves me to decide -- do I make a cake in the shape of a butterfly or use my cake pan that has flowers in the pattern and stick plastic butterflies on it for decoration? I'm leaning towards the latter. That would give me a cake and toys to play with all in one.
September 13, 2005
Time To Get The Chairs Recovered
We got our recovered sofa back last week. It looks a lot like the photoshopped version only much better. Of course, the nice new sofa makes the channel-back arm chairs look shabby and the gold upholstery on them is an entirely different gold from the sofa. So if we can ever decide what might look good on them fabric-wise, I think we'll be sending them in for recovering and spring tying too.
While all this may sound some what extravagent, the sofa was originally bought for about $25 at a rummage sale and saw 20 years as the family sofa before needing to be recovered. It's as solid and heavy as any sofa you've ever carried and the cushions are down-filled. We could not have bought a new sofa for the cost of recovering.
And such is also the case for the two arm chairs, which my mom got at an auction for $.25 each. I will say that for years I was very sure it was clear why no one else bid on them. They are covered in gold brocade and one of them has needed its springs retied since my mom bought them. But ugly or not they have good bones and mahogany arms and legs. I recently went looking on the web and found something similar for over $1000 for one chair. We definitely couldn't get a set for the price it will cost to buy fabric and recover them.
Part of me wishes I could learn to do real upholstery. I can recover a dining room chair, but doing a sofa or an arm chair with any level of competance would require more time and practice than I wish to expend upon it.
But some time soon, I may have what feels like a brand new living room.

Bible Bowl
Last Friday evening, I took The Boy, his clothes and a sleeping bag to our church building and after many hugs and kisses, sent him off with the other kids from church to Cookeville, TN to Bible Bowl. The kids have been studying Matthew all summer and answering questions and practicing. The Boy was excited to get to go. We could have gone with him, but with many things requiring our attention around the house, a baby and a dog, we decided to let him go without us. Besides, he didn't want us to go, because although he didn't mind us coming along, he knew we couldn't come without The Middle Girl and he feared she would interfere with his hanging out with his friends.
So we stayed home and had a relatively quiet weeked without the two older kids fighting.
It sure was nice to get him back on Sunday evening though. Plus it was funny to hear all the stories everyone had to tell about my boy. He's sure a sweetie.
September 09, 2005
The 56th Carnival of the Recipes
Welcome to the Carnival. As I read through the recipes this week, it seemed like they all fit into several broad categories of meal plans. Naturally one could mix and match, some things could be in more than one place and one probably wouldn't make everything for any one meal, but here are the suggested meal ideas as I saw them.
Read More "The 56th Carnival of the Recipes" »
September 07, 2005
I Do Not Think That Means What You Think It Means
The other day I let The Baby Girl eat black beans. They were well received, and enthusiastically consumed. She really got into her food and her food got all over her. So I took pictures.
Seeing as how we are in the digital camera age and even the smallest of children know that you can see photographs right on the back of the camera, The Middle Girl immediately demanded to review the shots I'd taken saying, "I want to see the dirty pictures!"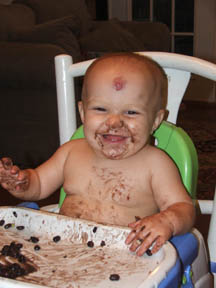 Warning: Black beans take a lot of scrubbing to remove from small children and tend to leave ring around the tub.
Good Fences Make Good Neighbors
They also keep dogs where they belong, which is really more to the point this time, since this stretch of fence doesn't run along the property line, but between the front and back yards. Long, long ago, in the distant past -- in May, I think, we started building a short nine foot piece of fence along the side of the house. We already have a piece of chainlink fence and a gate at the front of the side yard, but we'd like to get rid of the chainlink and push the dog back to the back of the yard.
The fencing project began. After preliminary planning, post holes were dug. Posts were set in gravel and concrete and all was well. Then the posts sat there until the end of June when the two short stretches of fence were built and the frame for the gate was cut.
Work proceeded on and off, but with life and three children getting in the way, the fence mostly sat unpainted and the gate sat unfinished in our bedroom. But all such things must finally be pulled out and worked on again.
So the weekend before last, we took the pickets that had been roughly placed off the gate, Justin sanded everything and I painted. We also decided to cut a few of the thin trim pieces out of PVC board, so as to ensure their rot-resistance. Then the gate was totally assembled, and all the holes, cracks seams and what-nots were caulked and/or filled with exterior wood putty. And then came more sanding. And more painting.
This Saturday I spent a large portion of the morning painting the pickets and posts for the fence. Monday I put a second coat of paint (actually, solid stain) on both the gate and the fence. It was a race against the sun in the end, and Justin had pull out his spotlight to finish, but with lots of props, shims and his wife holding the thing in place, the gate finally got hung up.
We still have to put caps on the posts and do a little touch-up painting, but I think it's turned out gorgeous. Justin says he'll build one for anyone who can pay his asking price of just a measly $10,000.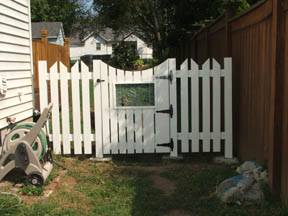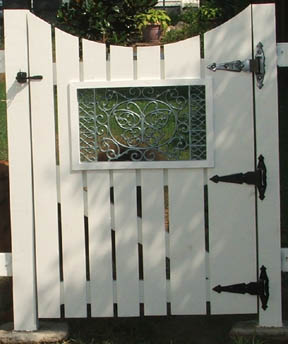 Much Better
I'm still kind of worn out, but am feeling a whole lot better today.
And on the subject of much better -- on Saturday, The Boy said, "I wish I had school today. I like it now." Hooray! That was certainly an answer to a prayer. So school is going well.
September 06, 2005
Sick Blogging
No, I haven't fallen off the planet. This past weekend was a very busy and productive one, but one in which I finally succumbed to a cold. A cold isn't so bad, but on top of it, I also seem to have caught the worst intestinal virus ever.
So think of me eating a lot of bananas, rice, applesauce and toast and drinking a lot of fluids. I'll return when I feel better.
September 01, 2005
Hurricane Katrina Aid
I meant to post this at the beginning of the day, but it has been quite the day of toddler moments, desperate and somewhat unsuccessful runs to the toilet by children old enough to know better, and other stuff, so I haven't been near the computer much. Anyway, most of you probably already have a disaster relief program of choice. Otherwise, I'll point you to Papa Possum, who suggests donations to Disaster Relief, which many of our individual church members support.