September 07, 2005
I Do Not Think That Means What You Think It Means
The other day I let The Baby Girl eat black beans. They were well received, and enthusiastically consumed. She really got into her food and her food got all over her. So I took pictures.
Seeing as how we are in the digital camera age and even the smallest of children know that you can see photographs right on the back of the camera, The Middle Girl immediately demanded to review the shots I'd taken saying, "I want to see the dirty pictures!"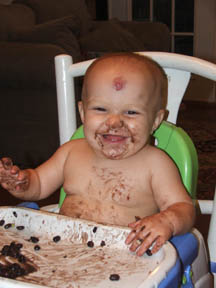 Warning: Black beans take a lot of scrubbing to remove from small children and tend to leave ring around the tub.