September 15, 2005
Curb Appeal
As I've mentioned on and off, we've wanted to put a window in our front gable since we moved in over three years ago. As long as we've been here, the gable has looked bare and a photo from when this place was broken down and decrepit shows that it used have a fancy attic vent and gingerbread. While putting that back could have looked nifty, we really wanted a window so that the attic could have the potential to become a real room some day.
This summer we finally had the funds saved up for such a project. After learning that the lancet window I really wanted would cost about $4000, I put aside such foolish notions and figured out what might be within the realm of possibility. We finally settled on three rectangular windows (two small ones flanking a larger center window), which can be seen all over our neighborhood on houses similar to ours.
The side windows are fixed and the center is a double-hung. I really wanted the gothic arches and diamond design for the muntins on the upper part of the center window, but even that would have added to the cost quite a bit. We got another cheaper, but equally authentic if not so Gothic pattern.
All this we decided way back in June. We also met with the contractor and decided on fiber cement shingles and made a few other design choices. It all seemed to be on track.
The window came in towards the end of July and the store started bugging us to get it out of their warehouse. In mid-August our contractor was all set to do the installation when we hit a snag. I am apparently incapable of getting good information out of the lumber yard and what I thought I had learned about fiber cement shingles was not accurate. Their cost was way too high and they would take over another month to get. So we had to rethink what we wanted and decide whether we wanted a different shape of fiber cement shingle that was easier to find and cheaper or did we want to get cedar after all.
We went with cedar. We really wanted something other than half-rounds and with cedar we had far more choices for patterns and designs. We bought a box of arrow shingles and a box of square shingles from Vintage Woodworks, which arrived in just three days. They were a really great company to work with.
Once we got the shingles, we had to paint all 192 of them. We spent three days priming every side of every shingle and then painting everything except the back. We also primed and painted all the trim for the window and additional trimwork. We weren't paying our contractor for his painting expertise, so we did all that work ourselves.
This Monday morning the contractor and his assistant rolled in.
When they arrived the house looked like this: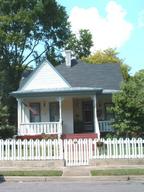 And then this: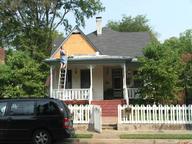 Then the cutting started: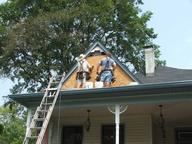 And there was a hole: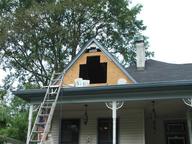 Followed by a window: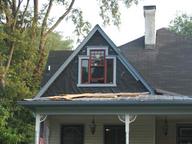 On the second day, they cut and installed a ridge vent, put a frame of trim around the gable and the shingling started: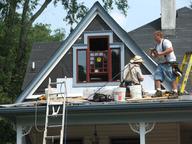 And went on: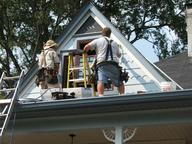 Until suddenly it was done: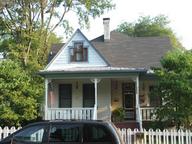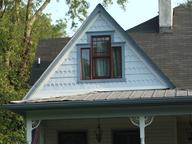 We'll have some puttying and touch-up painting to do, but the worst is over. It rained today and I checked for leaks. Everything is dry. I keep going outside to look at my pretty house. It looks a lot better already and just wait until we get the rest of the vinyl taken off and replaced with something else some day. But that is a project for some other year.