February 19, 2009
Child RADAR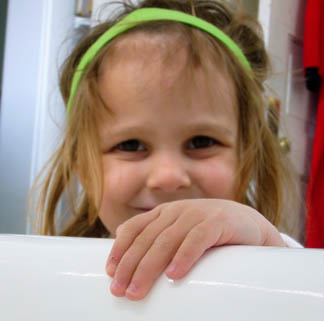 The baby is napping. The kids are in the backyard riding bikes and playing in the dirt. Now is my chance. I can settle into a nice hot bath and maybe even flip through a magazine.
Waaaaaaaah!
Oops, I thought that too loudly. The baby's awake. But she's pretty cute and likes the splash in the water. The magazine is out, but since all the other kids are busy, I can still get that bath in.
Water running.
The baby smiles and splashes. I settle in. This warm water is just what I needed.
The bathroom door slams open.
"Mom, is it swimming if you hang on to the side of the pool and wear a vest?"
"No."
The door slams shut.
Ahh. Now for a little peace.
The door slams open.
"Mom, do we have to play outside? I'm tired of being outside."
"Yes, you have to stay outside. Now out!"
"But mom..."
"OUT!"
Door slams shut.
Door slams open.
"Can I have a snack?"
"May I."
"May I have a snack?"
"May I have a moment's peace?"
Door slams shut.
Baby is tired of the bath and starts fussing to get out. Ah well. The idea was a good one. Perhaps in a few years I'll get that peaceful bath or maybe sooner I'll remember to lock them all outside.