March 30, 2009
Bread! Glorious Bread!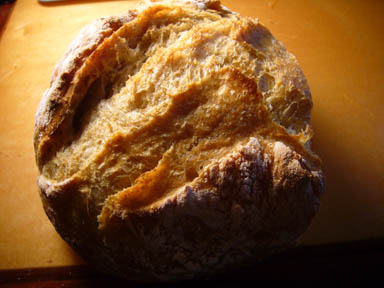 I've always been a yeast-a-phobe. Even baking bread in a bread machine often left me with crummy loaves of bread. I was convinced I just wasn't meant to bake my own bread. But...
"You have got to try this new book," my friend told me. "Artisan Bread in Five Minutes a Day and it works!"
I put my name on the list for it at the library and waited. And then I heard the authors on The Splendid Table and I started getting antsy. I wanted to try the recipe. I actually wanted to have an excuse to buy yeast -- a product that hasn't graced my shopping cart for many years.
Finally, the book got down to my number on the library's list and I rushed out to pick it up (well, as fast as a woman with five children in tow can rush anywhere). I also bought yeast.
I mixed up the dough and it actually rose. Even in my house that hovers between freezing and zero Kelvin. Okay, I exaggerate slightly (but we do keep the thermostat at 60 and it is probably only 60 degrees within two feet of the thermostat and some places in the house are a whole lot chillier -- remember this when you start to dream of old houses and all their lovely charm). I put it in the refrigerator, chilled it, did all the steps as indicated and bread actually baked.
Then I went wild and crazy. I've been baking and baking and baking. I've made whole wheat, light wheat, naan, pita and more and more bread. Good thing we can eat wheat! It's truly lovely bread.
I was very sad when my turn was up and I had to give the book back to the library. But seeing as how I'd used it almost every day for the past three weeks, I decided it was worth the price and ordered it for myself as a very early birthday present. I seem to have finally conquered my fear of yeast.