May 17, 2005
Mutants Gone Wild
In my garden I have lots of hostas. I'm a sucker for low maintenance plants, especially when they look nice too. We mostly have plain green ones, since those were already here, but I've been adding a lot of my favorite blue varieties and a few variegated ones.
Last year I planted a ring of blue hostas around the magnolia sapling we also planted last year. As I recall they all looked like regular hostas at the time. This year most of them look like this: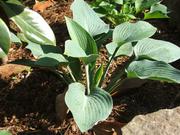 But I have one mutant. Instead of having a bunch of leaves around the base and eventually shooting up a thin stalk of flowers like the hosta above and every hosta I've seen, my mutant has a tall stalk with leaves alternating with flowers.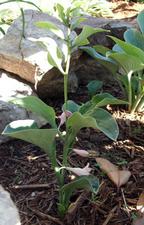 I know I have a lot of people who read this blog who are far more expert and experienced gardeners than I. Have you ever seen this before? Should I be checking for crop circles in my creeping phlox?