May 31, 2005
Got Strawberries?
We made a quick trip to Kentucky this past weekend to see my husband's grandparents. While up there we spent a lot of time outside in my grandfather-in-law's oversized, extra, super large garden picking strawberries. Not only did we all chow down while out there, we came home with this: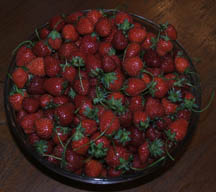 So upon our return Saturday afternoon, I had no choice but to start using strawberries. First I made strawberry-banana pancakes for dinner that night. The next day, I went over to the forty-first Carnival of the recipes at Fresh As A Daisy trying to find more strawberry recipes.
Sunday afternoon I made a double batch of strawberry filling from the recipe at Booklore. Monday, I converted some of that into the strawberry turnovers mentioned later in the entry and also used some to make strawberry lemonade. Also on Sunday I made a some strawberry lemon muffins, which tasted great and might have looked fine if I'd put them in paper muffin cups (it's an experimental work-in-progress recipe, so I'm still creating, but edible is always a good start).
After all that, I still had 6-8 or more cups worth of strawberries left. I picked out the very best, not going mushy at all ones to save for putting on cereal and similar things and froze the rest. If we have enough fresh berries left, which I still need to check, I may make this for dessert tonight. I'm giving a few bags of frozen berries away, but we are well stocked on strawberries for at least a while. Yum.