June 02, 2005
They Grow Up Too Fast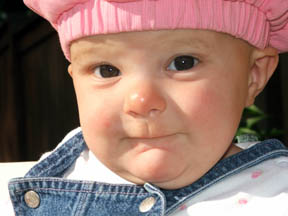 The Baby turned seven months old yesterday and started eating Cheerios (or the wheat-free Wild Oats equivalent anyway). I don't know when I started feeding such things to the other two, but The Baby was clearly ready for them -- picking them up in a nice pincher grip and slurping them down as fast as I could put them on the high chair tray. She's also started crawling a bit like a normal baby and not like an inch worm and she's also doing some almost pulling up. It doesn't seem possible that she's old enough to be doing this stuff.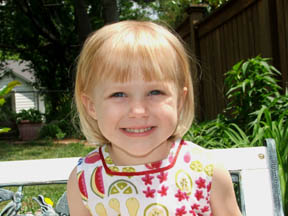 The Girl suddenly seems older too. She's potty trained and stays dry at night at least as much as her older brother. She has definitely opinions on clothing, shoes and everything else and was recently heard corrupting a song from Bible class to say, "Day One, Day One God made applesauce when there was none." We'll work on the theology, but it was pretty funny.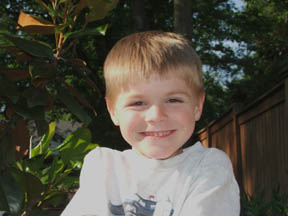 The Boy has his last day of preschool tomorrow. In the fall he'll be a full-fledged Kindergartener, although at hippy German school the distinction is rather non-existent, it still means he'll be going to school every day and learning things like vegetable chopping and sewing that he missed out on this year. He also went up to the librarian at the public library yesterday and asked for assistance in finding books on dinosaurs and Egypt. Yesterday afternoon he wanted to write a history book about "olden day people," but since he didn't know enough about them, he wrote his own continuation of Gelette Burgess's Goop books. This morning he was telling us what he'd learned about the consumption habits of carnivorous dinosaurs. He pretty much fascinates me and I generally feel very lucky to get to know him.