June 21, 2005
Can I Get Up Now? Or The Haircut That Nearly Did Me In
I'm not a long haired person. My hair has almost never been long. My mom kept it cut short, because she didn't want to or know how to deal with fixing hair. As a small girl, I envied all the girls with long hair, braids or most especially small versions of Princess Leia hair. There are far more pictures of me as a child with short hair looking almost like a boy than there are of me with even semi-long hair.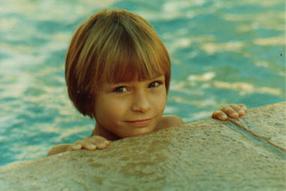 As I grew older, I had longish hair and I have one picture of me from my sophomore year of high school where my hair would actually pass as long.


Most of the time though, my childhood of short hair has stuck with me. I start getting really antsy if my hair gets very long. I always threaten to get a pixie cut, but lack of assurance that I wouldn't look really stupid has made me hold off on that. I tend to opt for a short bob.
The only problem with short hair is that it grows out -- quickly. And I never seem to have enough time to go get it cut. Add to that, that the beauty salon I go to starts with Super and ends with Cuts, so I don't have to make an appointment, so I can always put off a hair cut one more week.
By this past weekend, I'd been talking about getting my hair cut for weeks. I hadn't had it cut since early March and it was getting down past my chin. Definitely driving me crazy.
Saturday morning, I left the kids at home and took off for the nearest Supercuts. I got there and there wasn't a big crowd. Both stylists were finishing up and there was only one guy ahead of me. I probably got in the barber chair within five minutes. And then the torture began.
My hair stylist was either new at it or a perfectionist or both. I never thought I would say I didn't want a perfectionist cutting my hair -- afterall, even if I go to the cheapo shop, I still want a decent cut -- but I can firmly say after having this guy work on my hair to take it from a chin length bob to a jaw length bob in 1 1/2 hours that I can do with out perfection. When the other stylist called back the fifth person since I had sat down, I nearly screamed that if he's just give me the scissors I'd finish the job myself.
My hair looks fine now (though not so much after a long day and when you let a five year old take your photo), but my rear end may have suffered permanent damage.