December 13, 2005
The Best Toys
Chris of The Big Yellow House has a post at DotMoms about the best toys and her list rings so true. Blocks, Legos, pretend play stuff, those are the things that last and get the most play time. They don't the bling-bling excitement that the noisy toys have and are therefore often not given by my kids' granparents, who want to see the instant excitement that noise brings. A few things that didn't make Chris's list, but that get a lot of play time around here are puzzles and toys to ride on. We let the kids ride on some things in the house and my children seem to take great joy in circling the kitchen table chasing each other on foot pushed riding toys I could have sworn they wouldn't fit by now.
But my son's current great love in life is Legos. He inherited all of his dad's, which my mother-in-law had saved and he and my husband could spend hours together building and playing with those little plastic bricks of impending doom for barefeet.
And now, let me say that The Boy thinks he has the most awesome Aunt Mimi (not her real name) in the world.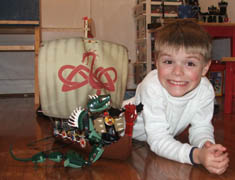 Nobody does Viking ships (even in miniature) better than the Danes.