May 30, 2006
Taking It Easy (Sort Of)
I admit it. I'm not at all good at taking it easy. I am pretty good at drinking water though and so I'm doing fine. (If I need to drink a lot of fluids to keep this baby inside and happy, can I say that my child is driving me to drink?)
I think Saturday was pretty uneventful. At least, I have no recollection of anything that happened.
Sunday, after church and lunch, we packed up the family and went to the Renaissance Festival going on south of here. We have always said we wanted to go, but have missed it every year. When The Boy heard about it though, he was bound and determined to get there. He dressed in his favorite tunic, chainmail (fabric) cowl and helmet. The Middle Girl wore pink from head to toe (which, I should note, is not unusual) and dressed as a sort of fairy/ballerina/princess hybrid. The rest of the family wore normal clothing.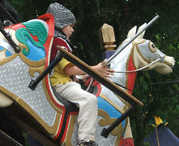 Fortunately for all of us, we got there after the Sunday afternoon thunderstorms and because the site was almost entirely tree-covered, we didn't suffer too much in the heat. Although Renaissance Faires do attract more than the usual amount of tattooed, pierced walking freak shows, it was still a really fun family trip, with lots of things to see and do. The Boy really enjoyed going through a maze and riding on a camel, while The Middle Girl thought the historically questionable castle moon bounce was the best.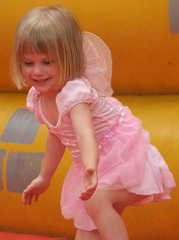 I indulged my inner princess by buying myself a little crown and Justin tried his hand at knife throwing. I think that career change to assassin might have to wait a little while, but I don't really consider that to be a problem.
On Memorial Day, our neighborhood has a big block party on our street. Our kids find it about on par with Christmas and were downstairs, fully dressed and screaming by 6 a.m. The actual block party doesn't begin until 11, but since we always help get things set up, we started in around 9.
The kids ran themselves ragged and I took several trips inside the house to cool off and drink a large glass of water. Although lots of fun and a nice chance to hang out with neighbors, I was more than ready for the whole thing to be over when 2 o'clock finally rolled around.
Today will definitely be a resting day for me. There's nothing that has to be done and I'm glad for it.