June 02, 2006
Gender Confusion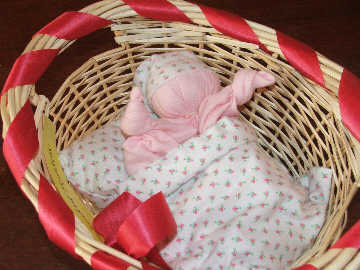 In Hippy German School, all the children in Kindergarten sew a baby doll and a sleeping bag for the baby. The dolls are simple, but take the kids who are learning to sew almost a whole semester to complete. In the end they are a source of great pride for their makers. When everyone has finished their baby, all the dolls get a name and are sent home with their owners.
Today is the last day of Kindergarten for The Boy, so yesterday he very proudly brought home his baby, sleeping in a pink rosebud covered sleeping bag and bearing the name "Sandra Boynton" in honor of one of The Boy's favorite authors.
He told me all about his baby and its "history." It's wearing a bandana (of rosebud covered flannel) because, according to The Boy, "It's a pirate." Then in the course of telling me all about Sandra Boynton, the doll, The Boy suddenly got a strange, some what confused look on his face.
"Can Sandra Boynton be a boy's name, because this is a boy doll?"
I told him that Sandra really was never used as a boy's name.
"That's ok. Sandra Boynton is really just his nickname. His real name is Sandrio Boynton. He's a Spanish pirate. Does Sandrio sound Spanish?"
I decided not even to mention the possibility that Boynton is not a commonly found name among Spaniards.