July 10, 2006
Changing the View
We spent a large part of Saturday outside working in the yard. Although the house may often be in shambles and I haven't mopped in a lot longer than I would care to admit, it pleases me far more, in the warm months, to dig in the dirt and be outside.
Justin spent most of the day building these: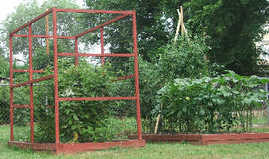 That's a cage to tidily keep the birds out of our raspberries and a teepee to keep the grape tomato from swallowing all the other plants in our veggie bed.
I spent much of the day filling in our new flower bed. We bought a some new plants and I divided and/or moved several other things from other places in the yard.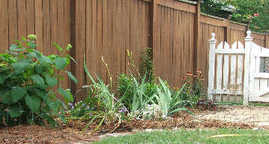 I would like to get a trellis to put by the fence on which to grow perhaps a clematis and I would like to put some sort of permanent feature of interest -- some sort of sculpture (I found a large whimsical head that would please me) or a bird house or something along those lines toward the fron where we have a point in the bed where garden meets path. I think that may wait for next year though.
When I started to get hot, I began to envy this fellow and his lounging ways.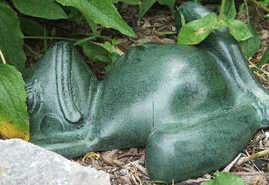 A nap in the shade would have been nice, but getting things done is even better.