July 24, 2006
Old Chairs to Mend
Last week and over the weekend, seemed to be chair fixing time. This would certainly be a more interesting post if I had taken before shots, but I didn't.
I've always wondered how hard it would be to reupholster a chair. I've put new seats on lots of dining room chairs, but never tried anything that is fully upholstered. And for my nice furniture, I consider paying someone to do a professional job to be completely worth it. However, I have still wanted to try it and I had just the chair.
My children have one of those miniature upholstered rocking arm chairs. Ours came from a yard sale and probably wasn't too clean when we got it, but after spending some intensive time with my children it was much worse. There was an stain from oatmeal that spilled on the seat, something had caved in on both arms, and there was a rip in the fabric on the back. The fabric used to cover it was also thin, quilting type fabric and not what I would use for upholstery.
I ripped everything off leaving a bare skeleton. The foam had shredded on the arms of the chairs, because it was thin 1/2-inch stuff and was supported by nothing underneath. We put in some scrap wood supports and replaced all the foam on the chair. Then I used left over upholstery fabric to given the whole thing a new skin.
I can see several flaws in it, mostly from cutting the fabric too short, but it is a lot nicer than it used to be.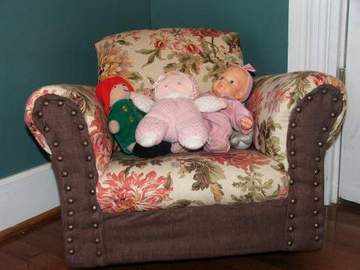 Justin also got in on the chair fixing trend. When we recently cleaned out our attic we were left with two chairs that we needed to either get rid of or fix. In our kitchen, none of the chairs match. This is not particularly due to any style choice, but rather, because we'd never felt like spending the money on a complete new set of chairs and so we (or my mother) have picked up a chair or two here and there as they show up at yard sales and such. This usually means the chairs are old and often some what rickety. We've had very few chairs that didn't get Gorilla glue and pipe clamp therapy before entering general use. And I've had one chair that had a leg fall off while I was sitting on it.
The two broken chairs we had in the attic were both cute, old oak ones. One had had a cross brace break from what looked like dry rot when the Middle Girl stepped on it once. The other, also broken by the Middle Girl had been tipped back and one of the back legs had snapped into two pieces. Both of these accidents happened almost two years ago, and so it was definitely time to decide whether these chairs were doomed or deserved another chance. I'm not totally convinced that the one with the once broken leg will withstand my family, but the other looks as good as new with a whole new brace, which has been stained and shellacked and if you aren't looking for the fix, you'd never notice that it hadn't always been one of the sturdiest chairs we own.