August 07, 2006
Dinosaur Bones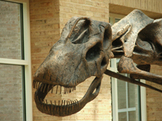 I didn't mean for the tales of The Middle Girl's vomit to stay at the top of the page for so many days, but we've been away.
We finished our first week of homeschooling off with a field trip to Atlanta to see the Fernbank Natural History Museum's dinosaur exhibit. The Boy is still in the throes of full blown dinosaur love, so we spent our first science sessions last week studying the main dinosaurs and pterosaurs we would see in Atlanta.
Studying is one thing, but seeing a 123 foot long set of dinosuar bones is quite another. It was well worth the trip and the price of a commemorative t-shirt (which has basically only left The Boy's body by force since we got it).
Much to The Boy's disappointment, we will be moving on to some other subjects besides dinosaurs this week. So you'll have to excuse me. I have some cave painting to do.