November 14, 2006
One Month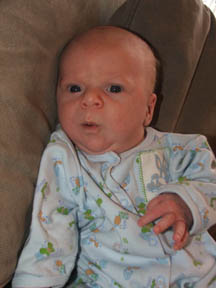 I can't believe it, but it has already been a whole month since the wee one arrived. As his father always likes to say, "Babies eat, sleep and excrete." He likes to do all three with great frequency.
His siblings are fond of him. My main job is keeping them from squishing the baby with too much love. I can't believe that it won't be long before he's participating in the chaos and chasing his brother and sisters around, but that day will come all too soon. I know from experience.
I have to start working on ways to keep my little one little. These months pass too rapidly.