January 25, 2007
My Son is Smurfy!
A while back, my parents brought down a load of books they were clearing out. In amongst everything else were three Smurf comic books that once belonged to my little brother. The seven year old has not just read through them, but they have become the newest obsession for an obsessive kid.
Forget dinosaurs, Sandra Boynton, Legos, the Bangles and all his other previous loves. Right now it's the Smurfs. Until I wowed until I wowed him with my mad YouTube skillz and pulled up a Smurf cartoon, he hadn't even seen one. He got interested from the comic books alone. And now he creates new Smurfs and writes Smurf stories whenever he gets the chance.
He even made himself a giant paper Smurf friend (although I hear frequently that this Smurf is larger than life, because a "real Smurf is only three apples tall").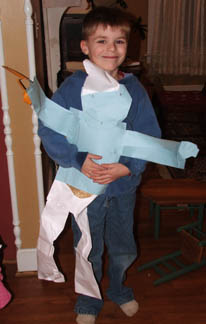 Add to the Smurf craze that we just watched The Princess Bride as a family movie recently, and you get a crazy child running around saying, "Hello! My name is Inigo Mon-smurfo. You smurfed my father. Prepare to smurf!"
What they can't figure out is the proper response to "No more smurfs and I mean it!"
Would that be (a) Anybody want a smurf? or (b) Anybody want a peanut?
I'm inclined to go with (b), but (a) seems some what logical under the circumstances as well.