September 18, 2007
The Beginning of the New Road
Sometimes the simple can be the most profound.
My husband and I made first Confession on Saturday. During Sunday Mass at a beautiful little church in Kentucky, we were baptized (Justin and I conditionally) and then we and the oldest boy received Confirmation and Holy Communion. Justin took the names of St. Justin Martyr and St. Joseph; I chose St. Gianna; The Oldest, Sts. George and Benedict; the girls chose St. Joan and St. Elizabeth of Hungary; and the youngest, St. Peter. Our sponsors and the children's godparents are a couple that entered the Church about 12 years ago from the same background out of which we came.
We capped off the day with a cookout at our friends' farm with lots of
families with lots of children.
It felt strange to wake up Monday morning and say, "We're Catholic." We never thought that would happen. It was a wonderful experience, in the true sense of the word, and we will be mulling over the significance of it for a long, long time.
(a few pictures below the fold)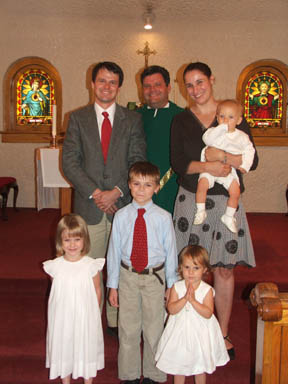 The two year old is looking uncharacteristically pious.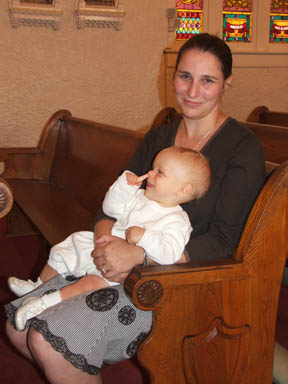 An attitude more characteristic of some members of the family.