February 01, 2008
So How Was That Cheesecake?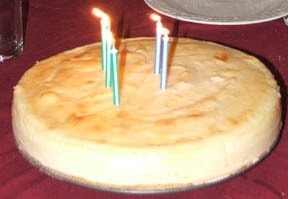 The cheesecake was marvelous. The sponge cake bottom was different and also delicious. The vanilla flavor was great and the texture was wonderful. I was really pleased all around.
The only complaint I had was that getting a cheesecake out of a waterbath is a pain in the neck. I kept soaking the hot pads and burning my fingers. I suppose the answer lies in silicone oven gloves, but they are something I've never gotten around to buying.
As for keeping the water out of the springform pan, one can, of course, just use a few layers of aluminum foil that overlap, but it is easier to buy a roll of the really wide aluminum foil and cover the whole thing in one fell swoop, though I will admit I used two layers anyway just to make sure everything stayed watertight.
I highly recommend the vanilla cheesecake recipe from Junior's Cheesecake Cookbook and I will need to buy it or at least check it out again before the make another cheesecake. In fact, I think I hear the cheesecake fruit tart calling my name -- perhaps I'll make it for Easter.