February 11, 2008
Traveling With Children, Day 1
My children are troopers. I can definitely say that. They aren't angels. They aren't perfect. We didn't make it out of the Tube at our stop one time, because they were too busy arguing, but they do go with the flow pretty well.
I have two excellent guide books that together make a great team for getting me out and about -- Let's Take the Kids to London (a chattier guide with longer descriptions) and Frommer's London with Kids (which has lots of useful maps, far more sections and short descriptions of a lot of things to see and do). I use them both heavily and find the first much better at telling me why I want to go some place, but the second is the one I carry around with me.
I did, however, have unreasonable expectations for how much one could do with four children in a day, at first. For the first week, my kids were quite bothered by jet lag. They couldn't fall asleep until after midnight, no matter how much they had walked during the day. They didn't wake up until after ten and we never left the house until noon. Therefore, we managed to see one thing each day. My guidebooks had nicely laid out plans for seeing the whole city in about 3 days, which I knew was ridiculous, but I also thought we'd manage at least a couple of things in a day. Of course, had we less time here, I'd have tried harder to go to a few different things in our first week, but even if we'd only had a week to spend in London, I don't think we could have gone to too many more things.
My children put up with a lot, but they can only walk so much and I don't like being out after dark or on the Tube during rush hour.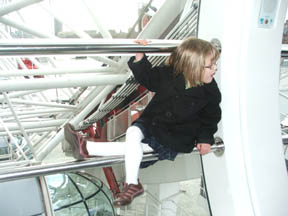 So we've done about one thing a day. The first full day, I took the kids on the London Eye -- a giant, slow moving ferris wheel across the Thames from Parliament. I'm still not sure I approve of it, since it doesn't exactly beautify the scenery, but it did make an excellent start to our tour by giving us all a sense of the vastness of the city and help us spot a lot of the important landmarks. It made a big impression on the kids too. They point it out excitedly whenever it comes into view.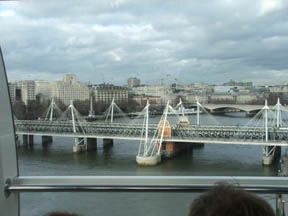 I had read that one could take strollers (buggies) on it, but that's only if you have a single one. Double buggies are not looked on with a great deal of favor and I had to check mine at the service desk and carry the little one while the others walked. For that reason, I always go everywhere with both the stroller and my sling.
Having finished with the London Eye and strolled a bit along the Thames past Lambeth Castle (home of a certain Archbishop, who has been in the news for saying some pretty dumb stuff recently), we made our way home -- worn out and ready to rest.