March 10, 2008
His Highness's Dog at Kew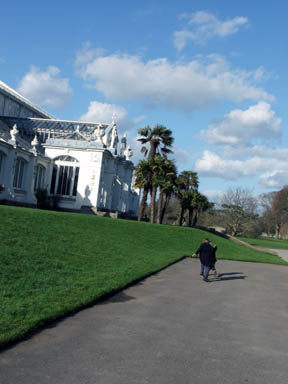 In light of today's high winds and rain, it's almost hard to believe that a few weeks ago it was bright, sunny, and warm enough to spend the day wandering around the Royal Botanical Gardens at Kew. The kids and I took the Tube out one bright day enjoying the fact that though it wasn't a long trip, the feeling of Kew was far different from the hustle and bustle of urban London.
Unlike many of the attractions in London, Kew Gardens aren't free to enter, but for one who loves to garden, it's a worthwhile visit. If I were a permanent London resident, I think I'd buy a membership.
When we got there it was almost lunchtime and my children, who like to act as though they are never, ever fed, opted for food before seeing anything. We sat on a bench outside the tropical greenhouse and munched on our sandwiches and then went inside, where we greeted by the world's oldest potted plant or "pot plant" as the crazy English called it (but they didn't mean one of these). The kids were impressed to see a plant that was potted in 1773, before that spot of trouble with the colonies that we American's like to call the Revolutionary War. I was certainly impressed by that and by the two year voyage it took to bring the plant from Africa to England.
From the Tropical Greenhouse we walked around, past fields of daffodils and crocuses, carefully planted primrose borders, ponds and sculptures until we came to the children's favorite part of the gardens. The indoor play area designed to look like giant plants to climb on,through and around. They liked sliding through the meat eating pitcher plant and climbing over spore pods and bouncing around the flowers.
Eventually I dragged them off and we walked through the holly walk (I don't actually like holly very much, so giant ones, though impressive, made me scowl just a bit). We passed a Lucombe Oak, which was absolutely gorgeous. In shape, it reminded me a bit of the live oaks one sees in Florida. We went through a few more greenhouses, down a walk lined with brilliantly blooming camellias, which my eight year old has decided are his favorite flowers at the moment, too bad they won't grow in Nashville, and then being tired we made our way out of the gardens with so much more we could have seen, but very impressed with what we had.
Before getting back on the Tube, we stopped for tea at a little place called "The Original Maids of Honor" after a cheesecake-ish confection they've been making there forever. Naturally we had a try some and most of the kids and I enjoyed them -- the five year old not so much, but what does she know. I thought the Maids of Honor were not too sweet and very, very yummy.
And then home again, home again, jiggety jog.