March 28, 2008
Tintin, the Movie!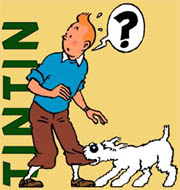 Although movies rarely do justice to the books on which they were based, as a child I always wanted to see my favorite books turned into movies or TV shows. Some (most actually) were horribly disappointing.
Little House on the Prairie had nothing to do with the books. Ramona Quimby spoke with a Canadian accent and was blonde. And Tintin cartoons too were Canadian and in my mind Tintin always had a British accent (never mind that he was actually Belgian).
Hope springs eternal and once in a while a book gets turned into a good movie, even if not entirely faithful to its former medium. And so once again, I am excited and hopeful that the casting of Tintin and Captain Haddock for a new Tintin movie will be a good thing. I can only hope that they don't throw into messy love interests and other plot lines that will mess up an entirely good series of books, but that, of course, may be a vain hope indeed.