April 30, 2008
Let's Play What Is It?
I have a mystery plant. Actually, there are two of them planted fairly close together in my driveway bed. They look as if I planted them intentionally. I probably did. They were there last year, but I don't remember the plant blooming. This year it looks as if it is going to soon, unless the shaggy green things are the flowers.
Whatever it is, I kind of like it, but I have no idea what it is. I can tell you what every other thing I've planted is. I like to know what I have. This one though has me stumped.
Please help. Tell me what's growing in my garden. Earth Girl and Patricia, I'm looking in your directions. But anyone else is free to jump in with an opinion or actual answer as well.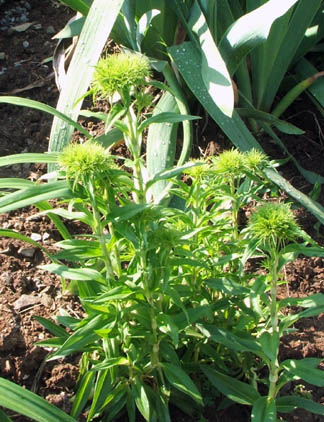 Update: There is a little pink bud on one of the plants and I am beginning to suspect that these may be Sweet William. I still don't remember planting them, but I'd be happy if this is the case, because Sweet William is so pretty.