June 16, 2008
A Belated Father's Day Note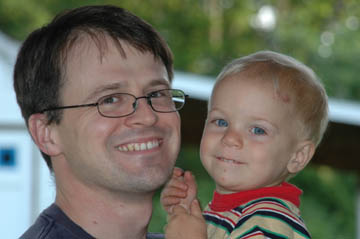 The favorite man in my life puts up with a lot, including my completely forgetting Father's Day, until after the priest mentioned it in Mass. Whispered orders to the three bigger kids produced cards for their father, but it isn't quite like planning ahead to actually prepare something to say, "We love you and appreciate all you do."
Still we do appreciate him, and although he might not have gotten any special presents on Father's Day, he does get the rock star treatment when he comes home from work, with children rushing from all parts of the house yelling his name and giving him hugs. His children love him well.
As do I. I also appreciate those times when he, as the father, lays down the law. Laws in our house are very, very similar to these -- right down to not putting your foot on the bread. The work of a dad is never over without many lamentations and adjudications.
If only the wee one would choose to cooperate, I'd be happy to make my darling husband a father for the fifth time around any time.