July 03, 2008
I Interrupt This Whining to Show Today's Harvest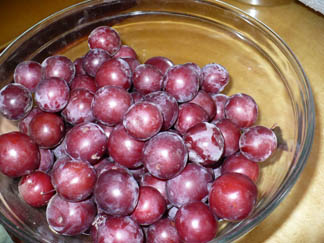 Plums!
In our backyard, we have two purple leaf plum trees. Everything I can find out about such trees is that they are largely ornamental and fruit from them is "negligible," however this year our trees produced fruit. It's true that the branches aren't bent and breaking from a surfeit of plums as I've seen some plum trees do when they produce, but it's more than enough to meet our needs and wants.
I've never made any kind of jam or preserve before, but I think the kids and I might try this freezer recipe. And maybe make some plum bread as well.
Or maybe we'll just eat them all.