July 14, 2008
Details -- Laboring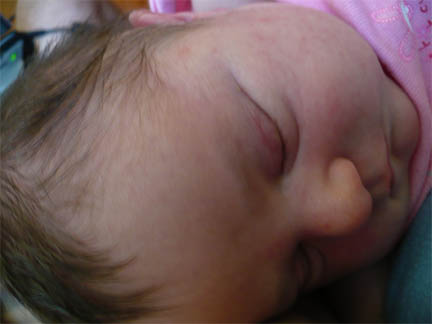 I went to the hospital on Saturday morning dilated to 4 centimeters and 80% effaced. This time around I wanted to try laboring without an epidural and in order to help me with that goal, I brought along not only my husband but a friend, who is thinking about training to become a doula.
Labor was not terribly uncomfortable and I was managing very well on my own. My doctor came in around noon and offered to break my water, but having heard that labor gets a lot more painful once your water breaks, I decided to wait on that and let it break on its own.
By about 2:30, I was getting more uncomfortable, but coping pretty well with the contractions. My doctor came in at 2:50 and checked my progression. I was at 7 cm, but the baby was still at -1 station. Going back over my other labors, which he had all his notes on, it looked like I would probably have another 3 or 4 hours.
About a minute after the doctor stepped out of the room, my contractions became unbearably painful and I decided I no longer could manage without pain medication. The nurse called for an epidural and about a minute after that I started wailing and telling everyone it was too late; I'd waited too long and that I was pushing without wanting to. They told me not to push, but I wasn't pushing voluntarily. The nurse checked and the bag was bulging, her head was right there and I was ready to deliver. All while I was screaming for pain medicine that I knew wasn't going to be coming. I had gone from coping quietly, breathing deeply and being able to relax, to suddenly being in one giant contraction, not being able to relax at all and definitely being noisy about it.
My doula told me the baby would be there soon and I told her I didn't want the baby -- and at that moment, I realized I would not handle torture very well. Apparently, I'll even sell out a baby to stop pain. It was not my finest moment and I suspect I scared every other woman in Labor and Delivery into requesting an epidural immediately.
My water broke, just as the baby was crowning, and my doctor was telling me to stop pushing so hard so I wouldn't tear too badly (and I wasn't trying to push at all). And there she was with a full head of hair and multiple chins, only 17 minutes after I had been at 7 cm.
I really thought she would be a boy and my doctor thought she'd be around 8.5 lbs. We were both wrong. She missed being my biggest baby by an ounce -- weighing in at 9 lbs 1 oz.
Hitting transition and having it go so hard and fast was scary. I wouldn't like to repeat those last 17 minutes any time soon. On the other hand, if transition is always that painful, I'm glad it didn't last long. I know the last part of my labor would be enough to have scared me off from considering natural childbirth for a good long while in the past, however, I did learn something from the experience -- at least for me, the recovery after a non-medicated birth is remarkably better. Within a few hours I felt almost human again and could get up, move around and although definitely exhausted I didn't feel like I was nearly as worn out physically as I had been with the others.
I won't say for sure that I wouldn't get an epidural the next time, if we do this again, and I would have really, really liked to have it while I was in labor. We'll just have to see. There were definite benefits, though, to making it through without pain meds.