August 01, 2008
Potpourri
A little bit of this and a little bit of that:
Congratulations to Michelle on her cute new arrival.
It rocks my world to think of Robbo being anywhere other than the Llamabutchers, but go visit his new blog The Port Stands at Your Elbow.
I'm really enjoying the Faith and Family blog these days. All sorts of encouragement over there.
Speaking of encouragement, I think Elizabeth Foss is always encouraging, but I particularly needed to read this post today.
One benefit in using old books in the public domain for homeschooling -- when you haven't unpacked the books yet, you can find a copy online.
Isn't this bag the coolest? It makes me want to go shopping just to acquire some interesting plastic bags.
Unpacking and moving the kids upstairs goes slowly. Well, the kids are sleeping upstairs, but everything upstairs and down in in chaos at present.
And finally, isn't she cute?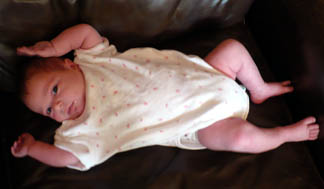 And isn't he frightening?