October 23, 2008
Gruesome Game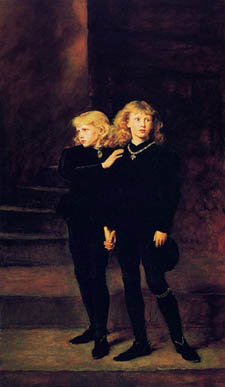 "Hey kids! Remember those two princes that Richard III had murdered? Remember the staircase in the White Tower where their bodies were found? Let's play a game about it!"
That's not a conversation we've had recently in our house, although my kids probably do remember the two princes and the staircase where their bodies were found centuries after the fact. However, I was flipping through the Story of the World Activity Book and noticed that one of their activities for the chapter on "The War for the English Throne" is a "Princes in the Tower Game."
I know from experience that coming up with exciting ways to fix the stories of history in kids' minds can be a challenge, but I want no part of playing this grisly little game. Two young boys were murdered. That's hardly the stuff of children's play and I'm a bit disgusted.