October 30, 2008
Hemangiomas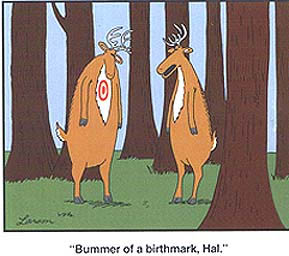 Some of you (I'm pretending that more than three people are still visiting this poor neglected blog) may remember that my second daughter had a large hemangioma right in the middle of her forehead. At first it looked like a caste mark, then like she'd bumped her head and then like nothing but a big red bump. Then it started fading, she grew bangs and now other than a slight discoloration and wrinkled skin, I hardly think about it. The two year old boy didn't have any birthmarks, which wasn't too surprising because these things are more common in girls.
Now I have another baby girl. A week or two after she was born, I noticed a teeny red mark on her neck. Something about it made me suspect that it wasn't going to get huge like her big sister's mark and so I didn't do more than point it out to the pediatrician and move on. That would have been that, except that on Tuesday afternoon when I was giving the baby a bath, I noticed a rather large lump on her back at the base of her neck. Not in the spot where the tiny red mark was, but a new place with another tiny red spot on top of the big lump.
Although I was pretty sure that this too was some sort of hemangioma, it is certainly different from the other kinds I've dealt with. This one seems to be more rapidly growing and deeper under the skin than my older child's. So we went to the doctor. The doctor agrees with my basic diagnosis that it is benign and probably some sort of hemangioma. It still isn't a great thing to have growing on your little girl's back.
Tomorrow morning we'll be going to the hospital for an ultrasound to try to get more information about what's going on and how the lump is growing. Personally, I wish it would all just go away.