November 11, 2008
Elephant-y Goodness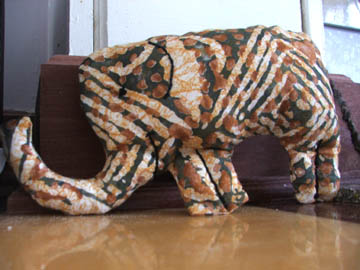 I realized over the weekend that Advent is almost upon us. I'm not planning to make every present we give this year. Some people just don't appreciate a handcrafted gift and a gift is for the recipient, not the giver, after all. But, I do like making presents when I can and I have several things in mind for this year.
My first craft of the season is a little stuffed toy for my 1 year old nephew. I bought a copy of Horton Hears a Who for him and although I wasn't up to trying to make a Horton look-alike, I thought an elephant would go nicely with the book. Especially, because his room is decorated in a jungle theme.
I sketched out an elephant shape (which my son informed me looked like a Republican elephant -- I wonder why I had that in mind?) cut it out, pinned it to some fabric I'd had lying around. I cut a fairly regular seam allowance around the edges, traced the pattern shape onto the back of the fabric to make it easier for me to stay true to the shape, braided some yarn for a tail and pinned the whole thing together inside out with the tail in between the pieces.
Then it was just a matter of stitching it all together, making sure to give extra strength to the parts that need reinforcement. I left the spot between the legs open, snip snip snipped around all the curvy spots, and then turned it all right side out. The trunk was hard to turn, but do-able. It was also hard to stuff, but again, it could be done. Once the shape was stuffed, I hand-stitched it closed, embroidered on the features and called it done.
I think it took about an hour and that was with a lot of "helpful" on-lookers, commentary and a nursing break.