December 02, 2008
I Need a 28 Hour Day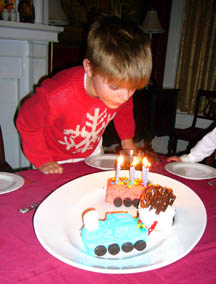 My fall wreath is still on the door. There are ceramic turkeys on the dining room mantle and over the house sits a distinct lack of Advent or Christmas decoration. Yesterday was the oldest boy's ninth birthday. Once he was tiny. Now he is big. How the heck did that happen?
For his birthday he got a watch from us, a 100 foot tape measure and a Lego Brickmaster subscription from one set of grandparents and a bunch of Tom Swift books and a trip to Opryland Hotel from the other grandparents. He also got a collection of Smurf episodes on DVD. The lovely thing about this child is that he loves and appreciates all gifts. Had I gotten him a brick and a lump of coal, he would have been happy. Had he gotten nothing at all, he still would have found joy in the day. I wish I could be more like him and always find pleasure in where I am and what I have.
We had a party for him on Sunday afternoon. I let him pick one family to invite and so we had over some friends who have three kids around my son's age. The kids played, ate pizza and cake and made a good party of it.
Yesterday we went to Opryland to see the Christmas decorations and enjoy the tourist feeling in our own city. In the evening we went to an Advent program at our parish.
Now I need to get back to the everyday and get in some schooling along with taking down the autumnal decorations and putting out the wintery ones.