May 09, 2005
April Showers Bring May Flowers
And at German Hippie School™ that means it is time for May Day celebrations. Naturally, I was afraid that my son would come home saying, "Power to the Socialist Workers" or something of that sort, but actually it was a more innocuous May Faire, with flowers for everyone's hair and a maypole to dance around.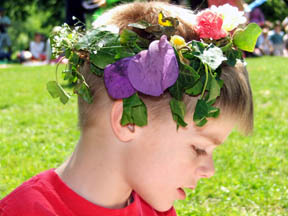 We spent the entire morning at school -- first making ivy and flower crowns followed by a concert put on by the older grades (They could actually sing. It wasn't one of those "I'm going to have to claw my ears out before the children sing again" concerts.) At the end of the concert, the school processed up the hill to the May Pole, where a few teachers played while the classes took turns dancing and everyone else picnicked on the lawn.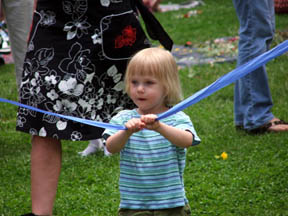 Being out in the sun all morning wore me out though, which is why I could barely keep my eyes open for the BlogNashville party that night.