June 15, 2005
Memed
I get tagged to do various memes and it sometimes takes me a while to get around to them. Sorry about that. I've decided not to tag anyone specifically, but feel free to consider yourself tagged if you want to do these and have not been tagged before.
Blair tagged me to do the "If" meme, in which one finishes five of the statements below.
If I could be a scientist...I'd be a physicist like my dad.
If I could be a painter...I would paint pictures people might want to buy. I guess if by painter, you mean, one who paints, I am a painter. I do like painting and my own artwork hangs all over my house. However, I don't see myself doing this for a living in this lifetime.
If I could be a doctor...
If I could be a farmer...
If I could be a gardener...
If I could be a missionary...
If I could be a lawyer...
If I could be an athlete...
If I could be an innkeeper...
If I could be a professor... I'd want to teach British history.
If I could be a writer...
If I could be a llama rider...
If I could be a bonnie pirate...I'd swill a lot of rum and say "Aargh!"
If I could be an astronaut...
If I could be a world famous blogger…
If I could be a justice on any one court in the world...
If I could be married to any one famous political figure...
If I could be a circus star...
If I could be a poet...I'd write concrete poetry and laugh at all the losers who thought it was real poetry. I would be well aware that the emperor had no clothes.
If I could be a musician...
If I could be a chef...
If I could be a rodeo star...
Do I look like a person who likes books? Does it show? Okay, I was a librarian and all that. Susanna and Sarah G. both tagged me for the book meme.

Number of books I own: A lot. Here's a sample, though it leaves out a few whole bookcases.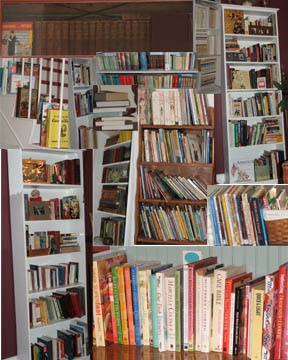 There is a little bit of everything in our collection -- lots of books from college, lots of children's books, my collection of Emilie Loring novels, reference books, an Encyclopedia Britannica set from the early 1900s, not enough P.G. Wodehouse, and too many books on how to raise children. We're heavy on fiction, poetryand history and light on science, which can be explained by the fact that this is the house of an English major/lawyer and a German literature major/librarian.
Last book I bought: I'm not even sure. Despite owning a lot of books, I tend to check out most of mine from the library these days. There are many books I want to read but don't care about owning and there are others I want to preview before I consider buying them. I use the library for both purposes. I went to the library yesterday. Here's what I got for myself: The Doll People by Ann Martin, The Lady Chosen by Stephanie Laurens, The Victorian House Book by Robin Guild, and Victorian: American Restoration Style by Joan Brierton.
Last book I read:
The last thing I read, other than a Bible story was the a book to the kidlets last night called Beautiful Warrior: The Legend of the Nun's Kung Fu. It was an interesting tale and provided a pronunciation guide in the front which I always appreciate. Pronunciation guides that I discover in the back of a book only after stumbling over words throughout a story are annoying, though I suppose better than no guide at all.
Five books that mean a lot to me:
Pride and Prejudice was the first Jane Austen book I read and it helped form my love of her books and probably influenced my love of Regencies romance novels in general, even if, compared to her, every other writer is a hack.
Anne of Green Gables and the rest of the Anne books, as well as some of the other books by L.M. Montgomerey, were and still are beloved. They are books I can reread and am not disappointed in. Some books lose the magic as you grow up, but the Anne books have not. Also, the name of one of my daughters is a name I first ran across in one of the Anne books.
James Herriot's books mean a great deal to me. I love the stories and for years and years I listened to them practically every night on tape as I fell asleep. They are like comfort books to me now and ones I need to start reading to The Boy pretty soon. I think he'd enjoy them.
A book on my shelf the physical prescence of which means something to me as well as the information therein is Reader's Digest Book of Facts. As a kid, I absolutely loved books of trivia, facts, lists, etc. This particular book is one my grandfather owned and which my parents brought home for me from his house after he died. I loved to read it to myself and outloud to anyone who would listen to me. I sometimes carried it in my backpack to school and nearly cried my eyes out when my backpack was stolen with it in there. The backpack was found with the book still in there, though the cover was almost detached. I never took it back to school, but I have moved it with me everywhere. I love the certainty of of the title -- no mere speculation, it contains FACTS. It has proved useful over the years for looking up things like the order of British rulers, etc.
My fifth book is difficult or impossible to select. By choosing to fill that last spot, I say that nothing else is quite equal to the rest. Do I choose Little Women, The Golf Omnibus that contains some of my favorite Wodehouse short stories, do I pick the German books I actually enjoyed reading in college and grad school, any number of children's books that I find especially wonderful and that I hold particularly dear, or what else could I chose? So many choices and all of them good -- I think I'll leave this slot blank.
If you think I live with a lot of books, how would you like to live in a house made to look as if it is made of and decorated with books? (link via Houseblogs)