May 16, 2006
Hardscaping
We're in the process of putting in some of the hardscaping (paths and the like) that our yard needs. There are certain spots that are, due to heavy traffic from people and a large dog, mud slides. We are planning out various paths to correct the mud features in the garden and to give us defined borders for new flower beds that I want to dig.
Before we get to the paths though, we have done some other work. Last summer Justin built a bit of fence and a lovely gate to contain the dog further back in the back yard (we moved the fence and gate from the front of the side of the house to the back). This summer, we put in an arbor, a brick area with flower beds around the arbor, and a brick threshold under the fence and gate.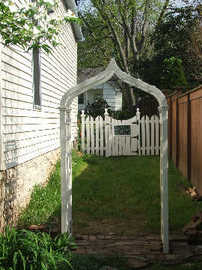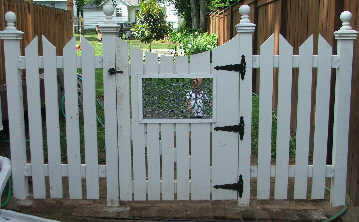 Our next project will be a path from the gate to our deck. We're trying to decide whether to do molded concrete, gravel or closely set stepping stones.
After that, we have to fix the front flower bed which currently comes to a dead end in the middle of the arbor and build a path and flower beds between the arbor and gate.
It's hard to say if we can manage all that this summer, but I think we can.