July 18, 2006
Books Everywhere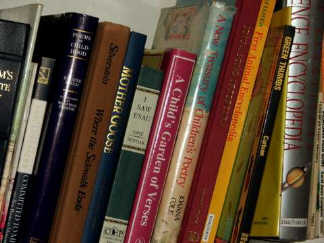 Getting ready to homeschool, I've done a lot of reading and thinking about how we want to approach things. I'm most drawn to the idea of classical education, but at the same time the way we tend to dive into the interest of the moment around here, I think we may have a hard time sticking to a strict schedule for some things.
I am attracted to the descriptions and ideas found in A Well-Trained Mind. It is a compelling book, but having put none of the ideas into practice with my children, I can't yet speak to how some things will actually work for us.
I really like the idea of studying history and literature in a more or less linear fashion and I know the kids are interested in mythology and the ancient world, so we'll be starting with the Ancients and working on from there. Having checked out almost every book they recommended for the first year to preview, we are going to use many of the suggestions the authors for our basic curriculum, although there were a few books they highly recommend (the ones written by them, that were not as impressive as some of the others).
At least at this point, until we find out that none of it works for us, we're planning to use the following:



For grammar I liked English for the Thoughtful Child better than the recommended First Language Lessons (which has one repeating the definition of a noun for over 30 lessons and seems to talk down to the child)

We're undecided about whether to use Hillyer's A Child's History of the World or Bauer's The Story of the World, so I've bought both to mix and match as I see fit.

For science we'll start out studying animals and are planning to use The Kingfisher First Animal Encyclopedia for our basic text and rely on a lot of extra books and trips to the zoo to round out that study. We'll probably move on to studying human anatomy and then plants in the spring.

Although, I suspect there are much better books that do the same thing, a friend of mine works for a local religious publisher and brought over a present for the kids a few years ago of the book At Home With God. It offers short family scripture readings and suggestions for discussion and prayers, and something that forces us to do more than a simple family prayer at meals is probably a good way to get back to studying Scripture with the kids in more detail. I'm also partial to the beautiful Family Treasury of Bible Stories which presents one story for each week of the year, as a way to repeat and learn a story and its message in depth.

Eventually we'll have the kids take some sort of music lessons, either violin or piano, but for now we'll stick to our family habit of singing and we've gotten tickets to the local symphony's children's concert series.

Since I was a German major, I'l probably try to teach a bit of German. Maybe we'll start with some simple folk songs and a few phrases. I still remember the first conversation in the first German book we used in Seventh grade, so some of those things can really stick in there for a long time.

We've already got poetry books and mythology books and stuff like that for the kids to read and more can easily be found at the library, of course.

So that's the basic idea, thus far. We'll be working on penmanship too and who knows what else as we have time and the spirit moves us. I'm hoping The Boy and I can both learn to knit this year, since that's one of the things we'll miss out on by not being part of the Hippy German School.
As I said, all of this is untried, but I've looked it all over and knowing how my oldest child, at least, likes to work on certain things and knowing how he learns best, I believe and hope that these books wil work for us.
The only book I can, at this point recommend without reservation, is Teach Your Child to Read in 100 Easy Lessons. I've used it (and followed up with an old and out-of-print book called The Natural Way to Reading, which covers some tricks and sounds left out of Teach Your Child to Read) to teach one child to read very well and my three year old is on about lesson 70 and very excited that she can read words in real books now. Although I have no doubt the book would not be the best teaching method for every child out there, mine have both done really well with it and its slow, incremental approach. My younger brother actually learned to read from the same book over twenty years ago, so it's a program that's been around for a while.
We've got the curriculum end taken care of, more or less. Now to get out and meet some other home schoolers in the area and find some kids to play with now and then.