October 11, 2006
While The Littlest Keeps Us In Suspense...
The Oldest keeps trying to grow up. I remember when The Boy was known as Fang, because at the tender age of 9 months, he only had one tooth. As of yesterday, he is one tooth short.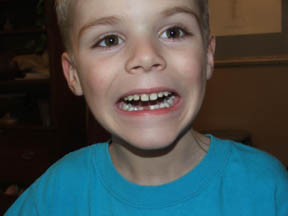 Since many of his peers lost their first tooth ages ago, he's felt very ready for this day to come and when his tooth finally loosened the excitement was keen. And then the tooth held on for over a month.
Yesterday afternoon as we were talking about the changing of the seasons and I was spinning a globe around our heads, I looked over and noticed that that tooth was hanging crookedly. I took a closer look and saw the incoming tooth poked up half-way behind the baby tooth and I knew it was time to take matters to hand. Despite a few objections, I yanked and after only a slight amount of blood, which The Boy took better than expected, the excitement of the moment took over.
Our tooth fairy is a rather retro one. A first lost tooth is going for a dollar around here. I'd meant to make sure the tooth fairy had a special Sacajawea dollar on hand for the occasion, but I'm afraid the tooth fairy forgot. However, after a bit of digging around, the tooth fairy did find an stash of Eisenhower silver dollars given to her by her grandfather on birthdays long, long ago and she slipped one of those in for The Boy along with a special, perfumed (fairies must smell extra good, afterall) note.
Sniffle. My little boy is so proud of being big, gap-toothed and kind of funny looking. How dare he keep trying to grow up?