June 12, 2007
The Return of the Tooth Fairy
The Tooth Fairy got to make a surprise visit. We'd put the kidlets to bed and were about to have to go up for our usual "knock it off and go to sleep" visit, when the seven year old came downstairs holding his hand to his mouth full of blood yelling, "My sister kicked my toof out!"
Sure enough. He'd been talking and the four year old wanted to go to sleep, so naturally -- she kicked him in the mouth. It knocked out one of his front teeth, but fortunately, his front tooth was ready to come out. It had been loose for months and would have fallen out long ago if he'd ever wiggled it. Still, it had been held in by some skin still and that's where the blood came from.
After it stopped bleeding though, the Boy was pretty happy to have lost the tooth and even happier when he woke up the next morning and discovered that the Tooth Fairy had come. Good thing she didn't oversleep.
A reenactment: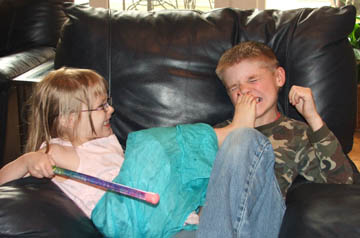 A happy (if fewer toothed) boy: