February 25, 2008
Destination: Yorkshire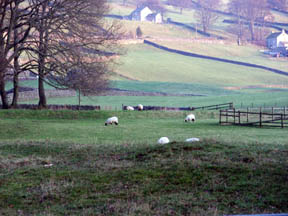 Some college friends of ours are living in Yorkshire courtesy of the US Air Force and they invited us up for the weekend to visit them. The planning stages started out well enough. We reserved our seats on the train and knew when we needed to leave to make it there, but somehow Friday afternoon saw us running out the door of our flat, walking as fast as possible with a suitcase, stroller, and two car seats, not to mention the children, to our Tube station, changing lines and then sprinting for our train to York in Kings Cross.
The train was comfortable and we had nice seats sitting across from each other with a table between. The ride only took about two hours, but in that time, the baby became quite beastly due to boredom. The other children were a bit better, because I had snacks, paper & pencils and a book to read to them. Remarkably, the train ran on time to York, but the little train to Harrogate, where our friends picked us up, was late.
Beastly children and slow trains aside, we made it there and woke up in Yorkshire, which looks pretty much as beautiful as described in James Herriott's books and where one could easily imagine Sarah Crewe doing a bit of gardening.
Saturday morning we tramped around the small village of Kirkby Malzeard (which is in Wensleydale, home of Wallace and Gromit's favorite cheese, which we naturally had to sample in its local environment) and that afternoon drove to the somewhat larger village of Pateley Bridge, where we strolled around the narrow streets and bought candy (honey liquorice and treacle toffee) at what claims to be England's oldest sweets shop (which may be as accurate as the various claims one sees in Nashville to having Nashville's coldest beer).
Down the road a few miles down the road was our next destination, a short hike up from an inn and pub in Wath-in-Nidderdale along the River Nidd is a beautiful dam at the beginning of the Gouthwaite Reservoir.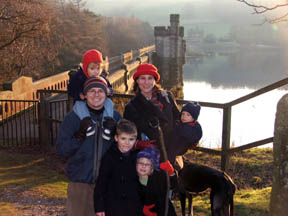 Sunday we went to York. I could have used at least a week to see all that I wanted to see, but we made do with an afternoon. We saw York Minster, the ancient walls, a few ruins, and the Shambles (which is an area of town leftover from Medieval days).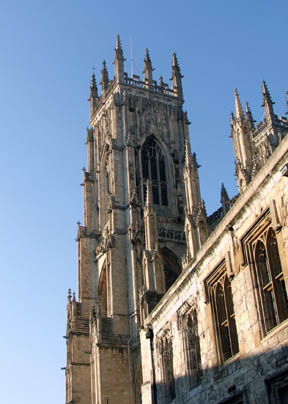 Monday morning we took the train from Harrogate to Leeds and from there back to London. It was a lot less rushed and crazy on the return trip, which I definitely prefer.
As I said, I could have spent days in York alone and the Dales, which James Herriott has always made sound so lovely, were a place I would love to spend more time hiking, strolling and just hanging out. There is always not quite enough time to do all that one would wish, sadly.