July 01, 2008
Public Humiliation is Good For You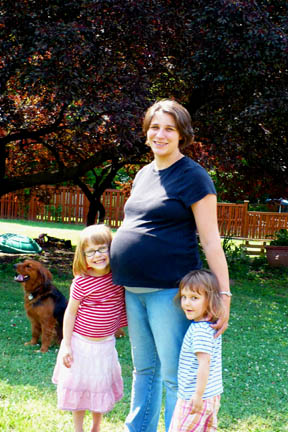 I got my eight year old to snap a photo to preserve a view of the current girth I'm carrying around. The camera adds 50 lbs, right?
The night before last I had a lot of contractions, but they never got all that painful, so I kept my 8:30 morning appointment with the doctor. Sadly and much to my disappointment, those contractions had done absolutely nothing. I had been up most of the night and even woken up my husband, and all for nothing.
After the doctor's visit, I went and walked around a great park not far from our house and then pretty much napped most of the rest of the day. Last night, I didn't have any contractions and I haven't had much of any today. Today, I ran all the errands I could think of that needed to get done -- Lowes, Sam's Club, and the grocery store. I feel like I walked almost the whole day, but no signs that a baby is planning to show up any time soon.
So that, if you are wondering, is where things stand on Baby Watch 2008.