January 07, 2009
Three Dead Mice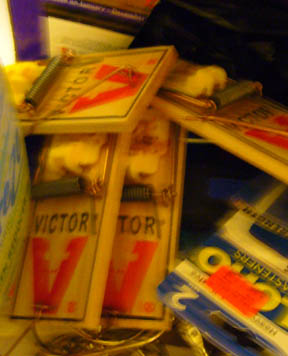 The mice in my house have reverted to a more normal Pinkie status and are less Brain-like.
After the great disappointments of failed mice killing earlier, we managed to completely ignore the critters for several weeks. Until our dog parked himself firmly in the spot where I prepare dinner with his nose sniffing away madly under the cabinets. I still managed to ignore/step over him for one night, but when the mouse made a mad dash from his hide out, over my foot to another under cabinet location, I decided it was time to do something.
We had hardly turned out the lights in the kitchen before we heard that pleasant snap meaning that there is an ex-mouse somewhere on the premises.
The dog had also been nosing around the foot of our bed and a cabinet in the schoolroom, so we put traps out there -- and hit the jackpot in all locations. I'm paying closer attention to the dog and where he's paying attention. It's not as good as a cat and I doubt we'll ever really win the war on mice, but it's a start.