January 06, 2009
Making a Book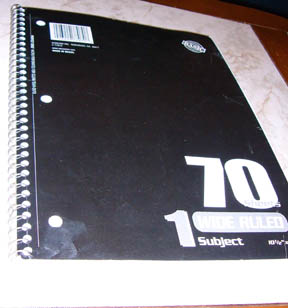 You know those spiral notebooks that Wal-Mart and Target sell for $.10 at the beginning of the school year? One year when they were marked down to $.05 each, I bought about 40 of them. Of course, that year my mother-in-law also bought us a bunch and has done so every year since. Even though my children inhale paper like air, we haven't managed to work through all the spiral notebooks in the house.
At the beginning of the year, I decided to start doing something with some of the notebooks, besides the usual scribble-fest that fills most of them. My oldest was also very into U.S. geography and so we decided to turn one of the notebooks into a study of the states. It's already bound. It's already lined. It's perfect.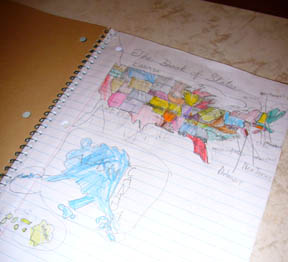 This has become a great geography/handwriting/art project and one my son looks forward to adding to. I think the fact that it is a special book helps, because he has a dedicated space, layout size, and ruled lines.
Although one could certainly print out pictures for all the parts, since my son likes drawing, he's doing most of the illustrations himself, but I do print maps of the states for him from Houghton-Mifflin's Outline Maps.
In my son's geography book, we started with a title page and illustration of the US, followed by a list of the states and the years they entered the Union. Then each state gets a page with facts about the state, a map showing its location in the US and a larger state map. On the back of that page, my son has been drawing copies of the state flags. This does lead to a little confusion because you wind up looking a the state information for one state and the state flag of the previous one, but it's a pretty good format.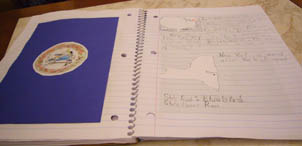 He's not quite finished with the original colonies, so this book will be an ongoing project for a long time to come, but it is one both of us our pleased with.
I'm looking forward to making more books out of our excess spiral notebook collection. I'm thinking about a study of prayers and the sacraments, an book of artists and a tree identification notebook.