January 02, 2009
Vomit-fest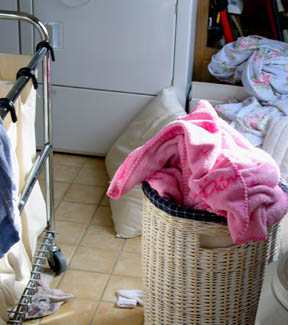 On the morning after Christmas, the six year old gently shook her father awake and announced that she had thrown up, but that it was all under control. She'd made it to the toilet and she was just letting us know. "Phew, did we get off easy," we thought.
Hahahaha! Early, early that Sunday morning, the bug hit me and the two year old. Then it seemed that things were getting better, though one or two children had on and off diarrhea. We continued on with fairly normal life (meaning we probably infected tons of people, sorry about that), even going up to The Fathers of Mercy for Mass on New Year's Day.
We came home, ate, watched The Great Race with the kidlets and had a nice lazy New Year's day.
I was curled up and sleeping when the screaming started. The four year old had emptied the contents of her stomach onto the bed she shares with her sister. When my husband started cleaning up their bed and transferring the girls to separate locations, the six year old threw up all over her brother's bed and managed to shoot it under another bed. And by morning, there was yet another set of sheets covered in more of the same. That, if you are keeping score, is three sets of sheets/pillows/duvets/pajamas/etc.
I had been caught up with laundry when I went to bed the first time and I loaded of the washing machine at midnight with the first load from the first attack of the plague of 2009 and got up at 7:30 to start a new load before doing anything else. The washer and dryer have been running continuously since then and if nothing else happens, I still have at least two more loads to wash.
The year can only get better from here, right?