May 09, 2005
Mother's Day
Besides VE Day, there was something else special going on yesterday. It was Mother's Day, of course. Being a totally crummy daughter, I ordered a flower for my mom's garden, but too late for her to get it by yesterday, forgot to send a card and didn't even call until late in the day, when she was out and so all I did was leave a voicemail. At least I don't demand much either.
I got a lovely card from The Boy and some bath salts that they made at school, and Justin took dictation for a card from The Girl. The Boy wanted to make me breakfast in bed, but on a Sunday morning in the hustle and bustle of getting ready for church that was out. Justin decided to take my picture with the kidlets even though it made us a minute or two later than normal for Bible class. They sure are cute, huh?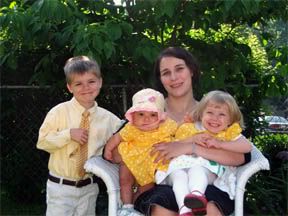 After church, we invited another family over for steaks and whatnot. I wish I had company more often, because it is a lot of fun. I just don't like the cleaning that it requires.