June 12, 2006
Landscaping Projects
Previously, I mentioned that we would soon be putting in some paths to prevent further erosion and get rid of a few of the mud pits in the back yard. We, as usual this is the part of we that does all the digging when I am pregnant, have done a tremendous amount of work digging out a path between the side gate and our deck and laying out some proposed new flower beds to edge it.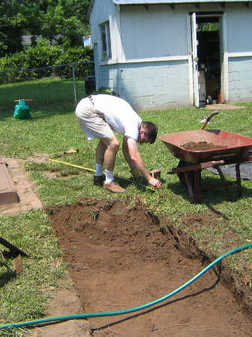 Once the digging was done, we bought nice snapped sandstone stepping stones from a nearby stone yard. It pays to have nice neighbors with whom you are on good terms, because after hearing that we were going to pay $100 to the stones delivered, our next door neighbor, who owns a large pickup truck, offered to go with Justin to pick the stones up and helped unload them. I offered a lot of encouragement and iced tea during the process of digging and rock moving.
Things still aren't entirely finished. We may actually take out some of the pea gravel to use elsewhere and put in larger rocks around the stepping stones. This would, we hope, make it easier to move the wheelbarrow and lawnmower on the path and encourage Toddler Girl to stop filling her clothing with tiny little rocks. Not that she would stop removing the rocks from their intended location, but big pebbles are easier to find and put back than tiny ones.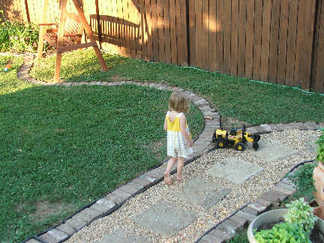 After the path was put in, we laid out a curved design to add to our current flower bed that runs along one side of the property and attach it to the path. We have the bricks put in to edge flowerbeds (and I actually dig help set a few, though not most, of those) but we have not yet dug out the turf for the beds themselves.
In the meantime, we decided the garden needed something else. After searching around and learning that most garden bench swings and stands or arbors were of a higher price than the range we had set in our heads, we found a nice cedar swing at Lowes. Its rather Mission-y for our Victorian house, but we've been enjoying it a great deal already and that was really the point.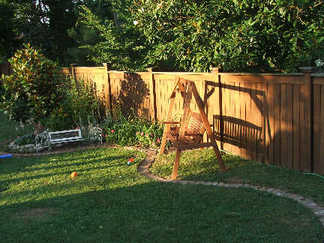 Last, what would a tour of landscaping projects be without a little view of my current favorite section of the garden and what I hope to carry through into the new section of flower bed when it is ready for planting?